Imagine that person you've worked with who seems to have mastered their job. It's that community health worker (CHW), promotor, or health navigator who seems to know all the community partners, who can cut through red tape, who can connect with coworkers and clients in a meaningful way. It's that person that everyone just seems to really like.
Maybe their secret is because they're extremely nice. Some people, especially those who work in community health, are that way. Or, more likely, these CHWs have a carefully crafted set of soft skills.
→ Click here to download a guide to CHW core competency requirements in every state [Free Guide].
The core competency skills that all CHWs need, such as organizational skills or advocacy, are much easier to research and provide. In fact, you can read a list of what those competencies are and the sub-skills included in them right here.
But what about soft skills for CHW candidates? These are also important skills for CHWs — as well as any employee or volunteer — and they should be at the top of the talents you're looking for in your applicants or to put on your own resume.
What are soft skills?
Soft skills are a mix of traits, behaviors, and attitudes that make it easier to get along with others and work effectively with others. They're also important to any health worker job, including for CHWs, in which building rapport with clients is central.
Hard skills, on the other hand, are generally easier to identify and build in yourself or your staff. Examples of hard or technical skills are:
Organizational skills, such as scheduling appointments with clients and patients
Reading vital signs, such as measuring blood pressure
Documentation skills, like note-taking or updating client records
Building soft skills in CHWs
Hard skills like those listed above are straightforward to teach. They're clearly measured and defined for a job.
Some people seem to be born with good soft skills. They don't necessarily need extra support to do what they're already good at. But soft skills can also be developed. If you're a supervisor, you can also learn to look for them and train your team in them. Soft skills are the ones that make up a career.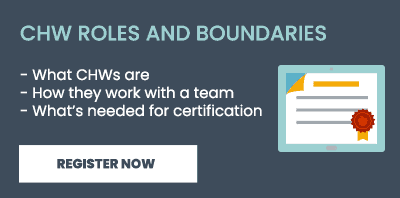 7 soft skills for community health workers' careers
Examples of soft skills that are important for CHWs in healthcare and community settings are:
Communication
Strong communication is one of the core skills of healthcare workers, including health promotors (promotores de salud), CHWs, peer educators, and those in similar roles.
Communication skills help CHWs build rapport with their clients and make it easier to serve as a liaison in challenging settings, such as navigating insurance, accessing care for their patients, keeping their community informed, and handing them the tools they need to make healthy choices and improve health outcomes.
Communication skills for CHWs include:
Conflict resolution: Ability to avoid or resolve conflicts
Cultural understanding: Understanding and connecting in culturally diverse settings
Nonverbal communication: Including perceiving patients' cues and concerns
Empathy and compassion
CHWs have a leg up in community care because they can connect deeply with the population they serve. Part of this connection comes from a shared background.
As a CHW, approaching patients from a place of empathy and compassion that comes with understanding the cultural context of patients' conditions adds an extra layer of care to the service. In turn, this creates a safe space where patients can voice their concerns knowing they'll receive respect and consideration.
Emotional resilience
Feeling overwhelmed by emotions and chronic stress are among the biggest causes of burnout for healthcare workers. Add bureaucratic challenges, overflowing desks, and patients at critical risk and it's important that staff have adequate coping skills. Emotional well-being is key in job satisfaction and success but often overlooked.
For CHWs, emotional resilience means being able to adapt to daily stressors and juggle multiple situations without falling prey to despair and frustration.
Learn more about how to avoid burnout among CHW teams here.
Ethics
One of the most important soft skills for CHWs is strong ethical behavior. As part of the healthcare system, CHWs must adhere to strong ethical values in their career, including:
Honesty: As a healthcare professional, the CHW must be transparent in the services they offer to guarantee the best possible outcome for patients.
Confidentiality: In any health setting, a patient will be more likely to cooperate if they can trust that anything they share will be kept private between them and the provider. Confidentiality is a central part of the code of ethics for CHWs and is required by law and employers.
Transparency: Being upfront about training, certificates, and other qualifications is key in any CHWs career.
Quality: CHWs must commit to providing the best possible service within their scope of work to every patient or client.
Safety: In high-risk situations, CHWs must communicate with the necessary authorities and follow state or local requirements in order to prevent harm to their patients.
Adaptability, flexibility, and stability
In an ever-changing field such as the healthcare industry, swiftly adapting to rising challenges and patient needs is a key for a successful CHW career.
Being flexible within the ethical boundaries of the profession implies alternative solutions to complex situations, providing resources, and walking unexpected paths to meet patients' needs in the best possible way.
Active listening
As a CHW, a big part of the job responsibilities is understanding the community in order to help them thrive. This starts with observing the background or context — and most importantly, truly listening to what they have to say to get a comprehensive view of what the population's needs are.
5 ways to improve listening skills:
Make eye contact.
Give the person you're talking to enough time to talk — don't cut them off mid-sentence.
Show respect by never making clients feel rushed when they are with you.
Maintain professionalism while being approachable at the same time.
Ask open-ended questions designed to gather information.
Teamwork
The ability to work well with others is another important soft skill. CHWs should be able to function as part of a multidisciplinary healthcare team.
Establishing trust with peers and supervisors, being able to communicate openly and respectfully, and collaborating effectively is key to provide patients with a smooth healthcare service across educational services, preventive screenings, and care coordination.
Great teamwork skills can include any of the above skills.