What does it take to have a team of community health workers (CHWs) working for your agency? Well, the answer to that question starts with understanding their roles and responsibilities.
Sign Up Now: What Is a CHW? [Free Webinar]
Some organizations already have a good sense of exactly a CHW does and how their jobs mesh with other staff. For others, it's all new for supervisors, newly hired CHWs, and other members of a multidisciplinary healthcare team.
That's why roles and responsibilities is one of the most essential core skills a CHW can learn. While what it takes to be a CHW varies from agency to agency and state to state, a baseline understanding of exactly what a CHW is common among everyone. Be sure to attend our free virtual core competency training event What Is a CHW?
Some states have certification programs, and some employees require stringent on-the-job training. Though ideas of what a CHW is might not be the same, there some standards that employers and organizations have in common.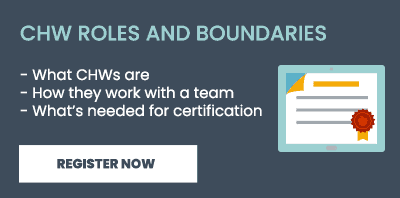 CHW Core Competencies
1.      Roles and Responsibilities
Understanding what CHWs are supposed to do with training in roles and responsibilities and what their responsibilities are through a well-defined scope of practice is the first step in a solid CHW education. This helps the whole healthcare team work more smoothly and gives CHWs the best chance to enhance access to healthcare.
2.      Advocacy Skills/Capacity-Building Skills
CHWs should know how to empower clients and motivate them to manage their own health. Part of this is teaching others how to advocate for themselves and demonstrate ways to help people reach their goals. Supporting behavior change relies on identifying and overcoming barriers, understanding community cultures, and finding ways to reach members.
3.      Care Coordination or Service Coordination and System Navigation
Care or service coordination involves navigating systems and collaborating with partners to connect clients to resources. This practice helps service providers work together and also works to tell systems about the needs of the people who use them. It also includes helping to develop and implement care plans.
4.      Communication Skills
Listening skills, language skills, building rapport, are cornerstone skills for anyone working with clients, especially CHWs. Communication extends beyond spoken and written words to knowing how to use and interpret nonverbal communication. A strong base in communication means CHWs can resolve and avoid conflict with clients and also at work, and understand how to work working within culturally diverse communities.
5.      Cultural Humility/Cultural Responsiveness
CHWs serve as a bridge between different cultures. This means that they often translate—sometimes literally–healthy behaviors into culturally appropriate equivalents. They must understand and work to reduce health disparities and use cultural sensitivities for all diverse groups. Cultural inclusiveness lets CHWs behave respectfully and identify bias so it's less of an influence in care.
6.      Education and Facilitation Skills
Using various ways to deliver health information clearly means that clients and patients are healthier and have better outcomes. Core education skills include knowing how to explain terms in plain language and promote healthy behavior change. They also find and use resources to develop self-efficacy skills.
7.      Evaluation and Research
Research skills help CHWs identify issues in their communities and what causes them. They might do this via evaluation projects, and then collecting data on them. By sharing results to stakeholders and community leaders, they can make critical changes in services happen.
8.      Experience and Knowledge Base
Being a CHW means understanding the landscape. They must fully understand the community, including social determinants of health and local and national health issues. With this information, they can find ways to improve the health of their clients and promote self-care. Basic public-health principles helps CHWs understand how US social-service systems work.
9.      Individual and Community Assessment and Direct Services
Identify the needs of a community is a must for any CHW. An assessment includes identifying the strengths and available resources of their communities. They also sort out what is necessary to help meet those needs and why clients should care. This also extends to individuals, who need to overcome barriers in order to receive social and health support.
10.  Interpersonal and Relationship-Building Skills
The field of behavior change is largely about relationship-building. Whether CHWs are building relationships with their clients, their workplace peers, or management, their career largely depends on their ability to build strong bonds with each group of people.
This can be an effective strategy to establish trust with people and in communities. Relationship pros are open-minded and know how to use Motivational Interviewing techniques to support clients.
11.  Outreach Skills, Methods and Strategies
CHWs are like marketers for the services available to their clients. So knowing how to develop and implement outreach plans is important. This includes finding the best ways to reach their community members–often via phone, email, or social media—to share information about programs and resources. This also builds on ways to create and maintain relationships with community members and partners.
12.  Professional Skills and Conduct
Having base professional skills and how to conduct in the job is a key to success. CHWs need to understand the context of and how to handle legal and ethical challenges. This includes respecting confidentiality and privacy rights, and responding appropriately in complex situations. This varies by agency, so they should know how to understand and follow agency rules.
Looking for ways to develop and refine these skills and competencies for members of your CHW team? Join CHWTraining for a deep dive into the first and most common core competency—What Is a CHW? in our free virtual training session on September 22 at 10 a.m. Pacific/1 p.m. Eastern.

https://chwtraining.org/wp-content/uploads/2020/09/Post_September-4.jpg
428
640
Monique Cuvelier
/wp-content/uploads/2019/03/logo-updated.jpg
Monique Cuvelier
2020-09-04 06:50:02
2020-09-17 19:54:51
Roles and Responsibilities of a CHW Career [Free Event]