New course aims to support depression and anxiety in communities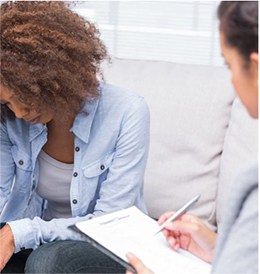 Depression and Anxiety: Help Others Cope is a new CHWTraining certificate course that examines widespread depression and anxiety in communities and addresses barriers to care.
This new self-guided course provides the blend of foundational knowledge and hands-on practice that will show community-focused teams how to help their clients deal with these common mental illnesses.
Train your team (learning tracks)
CHWTraining delivers health-specific online courses in a single annual subscription. Your team members can take interactive courses and download useful resources at their own pace.
"The content that your company provides is fantastic. The materials are proving to be a great benefit to our training and development program.
Our CHWs have had very good things to say about the training materials. They really enjoyed the format and believe that the material that was presented was extremely informational and relevant to their duties. They like the aspect of being able to revisit the modules to refresh if necessary"

Kiley Como, BSN, RN
Supervisor, Community Health Services – Novant Health
«Talance was a true partner throughout the entire process from design and timeline up until the course went live and even further as they have helped us to orient participants to the course. They are quick to respond to questions and give design and content advice as needed. I would highly recommend Talance and I look forward to working with them in the future in further projects.»


Marilyn Gardner, R.N., Clinical Liaison, Massachusetts Department of Public Health