Employee benefits are the secret sauce that can keep your staff happy. These perks, which are outside of regular salary, are also what can keep your well-trained community health workers (CHWs) working for you.
Retention is a big challenge for agencies like yours that have invested in CHW programs. Recruitment is often one challenge. But budget constraints often make it hard to retain talent. Especially small agencies find it hard to keep up with CHWs' needs to stay on board.
It pays to reward CHWs by offering impactful employee benefits because they become loyal and dedicated staff members. Less churn and turnover means happier clients, patients and better programs.
Salary is one way to make your CHWs happy. But it will only get you so far, and you might not be able to afford to pay as much as you'd like. Time off is OK too, especially when burnout is a big problem for CHWs.
Start thinking wider about CHW benefits. Think about what makes your workers' lives better, including flexible hours, training and paid time off.
Read on to see some of the most common benefits provided to CHWs and also pick up on some ideas you might not have thought about.
Training opportunities and career development are attractive incentives for CHWs to remain at a job. Fortunately, there's a lot you can do to prevent high turnover and retain the top community health worker talent in your organization. Learn more.
6 Employee Benefits Every Community Health Worker Wants
Provide Training Opportunities
Another thing you can do to help retain your CHWs is provide training opportunities. This will give them something to look forward to when they come to work each day. They will feel more valued and appreciated by you and your agency.
Some employees could have training in CHW core competencies depending on your agency and the state where you live. Others might not, so you need to provide this foundational training, such as through CHWTraining, to them when they begin.
They'll also need onboarding as soon as they begin work so they know what to do. An onboarding program should teach your new hires what they should do, what your agency protocols are, necessary compliance training such as HIPAA, and company culture.
Not offering training can be a problem for happiness. They could be confused about procedures or unqualified to offer support.
This example from Glassdoor shows how lack of training is the number one con for working for an otherwise good company: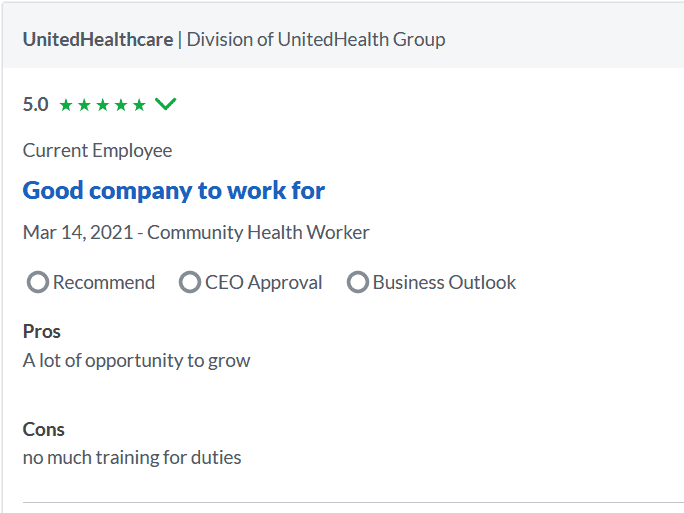 Offer Flexible Hours
Flexibility has become one of the biggest employee benefits over the past couple of years.
If you want to retain your current CHWs, offer them flexible work schedules. This will allow them to balance their personal lives with their professional ones. It also helps keep them happy because they won't feel as though they are being forced into a 9-5 schedule.
Flexible hours are easier to offer for your CHWs than ever. Most CHWs are used to being available to meet with clients whenever their clients need them. But with telehealth, phone calls and video calls make it easy to meet with clients at different times of the day.
Telehealth, or telemedicine, is another domain that wasn't part of many CHW/P tasks until recently. This is good news because telehealth is a proven strategy to engage and support clients, especially those in rural communities. Now, most people are remote, and the same strategy of communicating with clients for long-distance health care and education works.
Related: Community health workers are in high demand. These are the top 11 places to find talented CHWs for your team.
Provide A Development Path
Long-term development is one of the most often overlooked employee benefits. Some CHWs begin and stay in their job because they love it. But others look for ways to advance from the position into other jobs, such as a case coordinator, health coach, supervisor, or other specialization.
Providing a clear career path for your CHWs is one of the most effective retention strategies: It helps you recruit qualified workers and also helps you hold on to them when they decide they'd like to expand from their entry role. This will prevent them from being hired away by a new organization or out of your department.
Give Them Time Off
Burnout is a hazard among healthcare workers, and this can be especially true among community health workers. The coronavirus pandemic has made this even more of a problem.
So also make sure that your CHWs have enough vacation time so that they can take advantage of the benefits you've offered. If you don't offer paid leave, you need to find other ways to compensate your employees.
Some agencies lump all time off into one bucket. So do this or separate it into sick days, vacation and personal. Also, always give the CHW's birthday off! These seemingly small employee benefits are usually very appreciated.
Reward Good Performance
It's important to reward good performance. This will help motivate your employees to do better work. You can give out bonuses, raise pay, or even provide additional training opportunities.
Giving rewards is also a way to inject fun into the workplace. You can keep employees engaged and competitive (in a good way) by offering rewards. Rewards can be cash-based, but they can also be more creative. Some ideas are:
Better office space
Dinner—with you or another supervisor
VIP parking spot
Lunch for all the CHWs
Spa day
Team picnic
Free afternoon off
Conference of their choice
Provide Health Insurance Benefits
Follow in the footsteps of Sacramento Covered, which offers extensive healthcare benefits to its CHWs.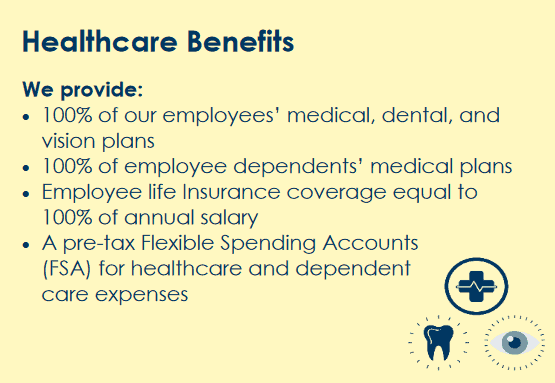 This is a generous healthcare benefits plan because they offer the total cost of medical, dental and vision plans. Any CHW will understand how important dental and vision are to overall health.
You can take your employee benefits one step further and offer disability insurance also. This is important if the CHW will be on the road visiting clients, come down with a serious illness or go on maternity or paternity leave. This will help them pay for a part of their income if they can't work. Think about short-term or long-term.
Wellness benefits are also related. Offer your CHWs perks like:
Free onsite vaccinations
Discounted gym memberships
On-site fitness classes or walking groups
Health coaching
Benefits pack a big punch. Invest in them and your CHWs, and you'll find that you have an enthusiastic workforce that will stay with you for years to come.
These are the top resources and tools you'll need to find, train, and retain talents that align with your organization's mission.