If you want to serve your community as effectively as possible, you need to understand what they're thinking, feeling, and where they're being left behind. It's a lot to do and is a taks that can be overwhelming. But a community health worker program can help.
Understanding what people in your community think and need is what it means to improve community health services. This is where community health workers (CHWs) come in. They talk to people, listen to their concerns, and gather important feedback. This is exactly what CHWs are meant to do.
It's not easy to start a CHW program, but you might find it's the missing ingredient to making your community healthier.
Let's explore why CHWs are so important for community health, especially for things like planning health programs and making sure everyone gets the help they need.
Free download: Your Job Description Template for Hiring A CHW
It's Time To Invest in a CHW Program
This is a good time to start using Community Health Workers (CHWs), Community Health Representatives (CHRs), or promotores in your programs. There are many skilled people looking for jobs, and now there's new financial help available. Starting from January 1, 2024, the Centers for Medicare & Medicaid Services (CMS) will start giving money upfront to some special health groups, known as Accountable Care Organizations (ACOs), under the Medicare Shared Savings Program. This money will help bring better healthcare to rural areas and communities that haven't had enough support before. It can be used for hiring community health workers, improving health care tools and technology, or helping with health issues related to things like food, housing, and getting around.
5 Reasons Why This Is a Great Time To Expand Your Community Health Worker Program
1. Your Health Initiative Will Really Start To Improve Health Outcomes
A program using community health workers can considerably improve the health outcomes of community members and patients. This is especially true among underserved populations that are ordinarily hard for health systems to reach.
This makes CHWs critical members of healthcare and community teams because they can connect with the kind of expertise physicians or other specialists don't have. They can connect clients to the right service for other support, such as transportation or food.
CHWs are also trained in health promotion, so they can help keep people healthy before they even need services. Some CHWs lead cooking classes or encourage clients to boost physical activity.
2. A CHW Program Increases Access to Healthcare for Underserved People
Health disparities are deserve just as much attention as they always have. Healthy People 2030 defines a health disparity, as "a particular type of health difference that is linked with social, economic, and/or environmental disadvantage." In some cases, they're getting worse. According to KFF:
Racial disparities in coverage persisted as of 2021, with higher uninsured rates for nonelderly American Indian or Alaska Native (AIAN), Hispanic, Black, and Native Hawaiian or Pacific Islander (NHOPI) people compared to their White counterparts (Figure 3). Other groups also remained at increased risk of being uninsured, including immigrants and people in lower-income families.
A CHW is trained to identify health disparities and understand how they affect communities. 
CHWs can hack through barriers that prevent people from finding and using health and social systems. They work specifically in areas that have inadequate or hard-to-reach medical care. People from these populations are more likely to die.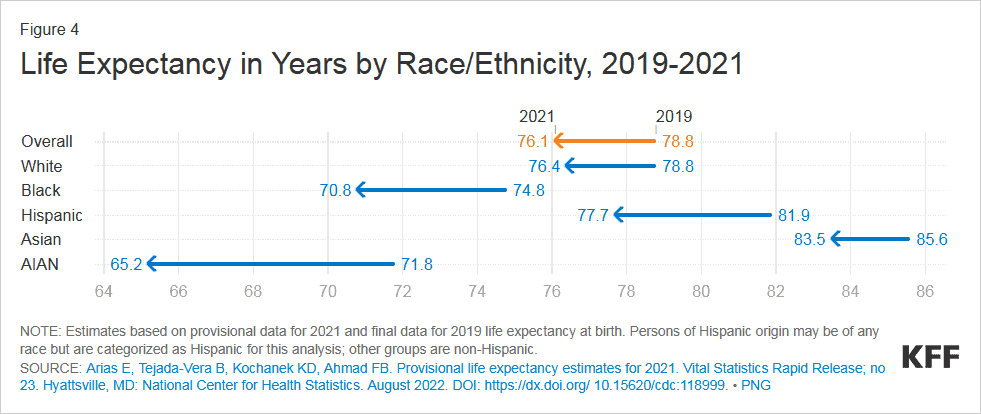 Source: KFF
They can do this because they share the same background as their clients and speak the same language. CHWs have an understanding of health beliefs and know the barriers that ethnic minority people face. They can take this insider knowledge and provide perspective to health care service providers.
3. CHWs Make Your Program a Bridge Between Providers and Communities
A doctor can diagnose an illness or can write a prescription for treatment. But a CHW can figure out what's going on in a person's life that's preventing them from getting care or following the treatment.
Community Health Workers serve as a bridge that crosses the gap between providers and services and the people who most need them.
Partly they do this by explaining complex healthcare systems to people who are confused, and in a language they both speak. Sometimes literally, as with promotores, or sometimes metaphorically, just because they can relate to the same culture.
CHWs can simplify the systems and procedures of the healthcare system. Doctors simply don't have the time or access to provide the kind of follow-up that would show if a person has taken their Metformin for their type 2 diabetes. What's more, a CHW might know that their client is planning on attending a wedding in the near future and could use some social support avoiding cake and alcohol at the event.
4. CHWs Reduce the Demand on the Healthcare System
Supporting clinicians—who are still responsible for medical advice—is a major reason CHWs can reduce the demand on the healthcare system. There are already too few doctors and nurses. This can add up to high dollars.
A study from the American Cancer Society showed that CHWs produce benefits of $12,348 per person served. If a CHW serves 69 people per year, that amounts to close to a million ($851,410) in savings—every single year.
People who benefit from CHWs live longer, and they don't use the emergency room as often. They also stay out of the hospital.
Massachusetts General Hospital did a study of a program that matched community health workers with clinically complex patients, and they reduced readmissions nearly 50%.
5. Community Health Worker Programs Use the Resources Your Agency Already Has
CHW programs offer a big return on investment, partly because they are designed to use resources that are already there. Thus, they don't require new equipment, programs, staff (aside from themselves), or infrastructure. This makes it easier on your budget. Most CHW programs are there simply to provide better access to what you're already doing. This in itself is enough to secure ongoing funding for programs that provide more widespread benefits.
Are you considering starting a Community Health Worker program?
If so, you want to see what we can do for you. We can keep your new CHWs trained to begin and as a regular way to keep their skills up to date.