Training your team to be community health workers (CHWs), or hiring new CHWs, is a priority for many healthcare agencies in the fight against COVID-19.
CHWs—and other health educators such as promotores, community health representatives (CHRs) or care coordinators—have a vital role in helping clients and patients receive care and avoid getting sick in the first place.
Nowadays, when understanding health disparities and delivering accurate health information is so important, the nature of a CHW is important.
In this guide, you can find what it takes to equip your team to be successful CHWs in the age of the coronavirus.
The Unique Role of CHWs for COVID-19
CHWs are known for having versatile skills for low-resource areas.
Home-based care supported by CHWs helps relieve the substantial burden the COVID-19 pandemic has placed on healthcare systems worldwide. Because CHWs can provide home-based care for people with mild to moderate illness, resources can focus on those with severe illness and help maintain essential health services.

– CDC
This is possible because CHWs live and work in local communities where they have unique access to neighbors and peers. They can help them understand and move through medical and community services. This ability to understand communities lets them share information in a way that other practitioners might not be able to—and can deliver to healthcare systems information about those communities.
That position of trust also lets them address some of the toughest coronavirus hurdles, including:
Misinformation: vaccines, spread, safety
Fear: vaccines, realistic risks
Stigma: communities where prevention might not be welcome
CHW Core Competencies
Find out all about what the CHW Core Competencies are, CHW roles, CHW careers, how to cross-train your staff, and how to get state certifications for the CHWs on your team
Top CHW Skills for COVID Care
Here are the key skills every CHW needs to succeed at preventing and managing COVID-19. And here are general skills to build on.
1. Personal protection
First, CHWs need to know how to properly protect themselves and others when they're doing home visits or community outreach. Here are some helpful resources:
How to Select, Wear, and Clean Your Mask, John Hopkins Medicine
Handwashing (and moisturizing) in the age of COVID-19, Harvard Health Publishing
Coronavirus, Social and Physical Distancing and Self-Quarantine, John Hopkins Medicine
2. Outreach and community engagement
Community outreach is the practice of offering education, planning, and support activities to community members.
In terms of health, community outreach means connecting with community members to educate them about ways they can improve their health and the health of their family.
For example, many communities are kicking off COVID-19 vaccination engagement programs. The problem is that COVID-19 hits communities of color especially hard. However, many people distrust government-run medical programs because of a history of medical racism and health inequalities.
Careful vaccination strategies that are focused on vulnerable communities—the ones where CHWs work—are working to break down misinformation and build trust. You can read more about some successful community engagement programs here.
3. Public health
Understanding the basics of what public health is helps CHWs relate to their job and the overall health of people and their communities. Knowing the basics of public health will set CHWs up for knowing populations, the way diseases can spread and how public health has been created to support communities.
Misinformation and underfunding has also had a detrimental effect on public health, and knowing the basics can help CHWs understand and spread information about the importance of its principles.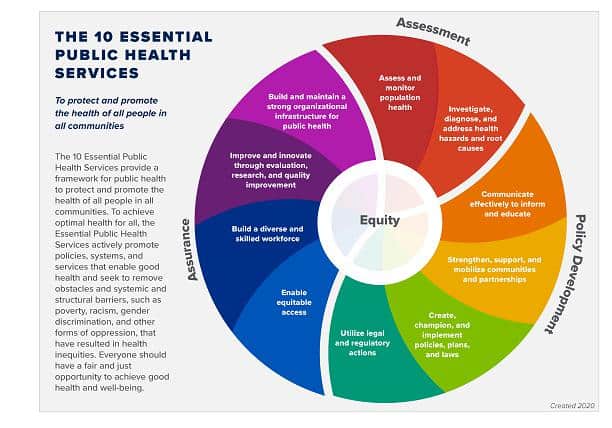 4. Advocacy
Advocacy skills can help CHWs get care to people who need it most. These could people who have existing conditions that would make COVID-19 more serious.
On a community level, they can communicate the need for education, services and supplies for areas that need it most. For example, they can deliver first-hand information on how the pandemic disproportionate impacts marginalized communities. They can ask community leaders to push for better access to vaccines, testing and incentives for getting vaccines.
5. Research
Being able to research means that CHWs can find and deliver correct and up-to-date information on the virus. They need to know how and where to find reliable and timely information from trusted, peer-reviewed and evidence-based resources.
6. Infectious diseases
A general knowledge of infectious diseases helps CHWs understand how diseases spread and the ways to prevent infections. This is helpful in emergency situations like this pandemic, and also for other illnesses such as the flu, HIV, HPV and measles.
7. Motivational Interviewing
Motivational Interviewing is a way to speak with unvaccinated patients about getting vaccinated in an evidence-based and culturally sensitive way. Understanding MI can help people move toward healthy behavior change that is consistent with their values and needs.
In brief, here's how to apply Motivational Interviewing during a patient visit, from the CDC and American Psychological Association:
Step 1: Embrace an attitude of empathy and collaboration
Step 2: Ask permission to discuss vaccines
Step 3: Motivational interviewing
Step 4: Respond to questions about vaccines, health, or mental health
8. Communication
Strong communication is one of the core skills of healthcare workers, including health promoters (promotores de salud), CHWs, peer educators, and those in similar roles.
Communication skills help CHWs build rapport with their clients and make it easier to serve as a liaison in challenging settings, such as navigating insurance, accessing care for sick patients, keeping their community informed about changes in variants and care, and handing them the tools they need to get vaccinated.
Communication skills for CHWs include:
Conflict resolution: Ability to avoid or resolve conflicts
Cultural understanding: Understanding and connecting in culturally diverse settings
Nonverbal communication: Including perceiving patients' cues and concerns
9. Interpersonal skills
Much of the work CHWs do is based on trust and mutual understanding. For CHWs, establishing trust with the people and communities they serve is key providing advice and support.
Part of these relationships depends on the CHW's ability to accept others and their situations and being open-minded.
CHWs also need to create a safe environment for patients to speak freely about their needs. For this, skills such as Motivational Interviewing (see above) and active listening can prove effective.
10. Care coordination and system navigation
CHWs need to double-down on learning how develop and improve care coordination and system navigation skills to support clients in complex health environments.
Care coordination and system navigation helps identify clients and patients who are at high risk of serious illness or mortality from COVID-19 and providing support to navigate the healthcare system and avoid risk.
These days, more clients are likely to fall into the definition of having complex health conditions. Agencies need to target clients and patients who are at the highest risk of serious illness and mortality if they get COVID-19. Identifying which clients have chronic illnesses or who are older is a care coordination activity that's vital for CHWs.
Care coordination is an effective and significant part of high-quality and safe healthcare delivery. It is a critical skill that allows agencies to combine and share information among teams, organizations, and facilities whose services your client needs. This skill, paired with system navigation, is essential to coordinate care among many providers and agencies. It's also a natural partner with building outreach skills.
11. Stress management
It can be scary to be a front-line healthcare worker during a pandemic. During the COVID-19 pandemic, many people have experienced more anxiety, depression and fear than before the pandemic. Front-line workers have experienced extremely high stress, and high stress can lower immunity to fight off infections. High stress can also make it harder to not yell, cry, or make mistakes at work due to the stress and feel sad all of the time.
Knowing how to identify stress in themselves and in clients, and then how to reduce it, is a valuable skill. Read Six relaxation techniques to reduce stress from Harvard Health Publishing.
12. Burnout prevention
Anyone supervising a community health worker team knows how important it is to support clients with depression, anxiety or other behavioral health issues. What they might not realize is that their own staff might be feeling the same as their clients.
Burnout can be prevented by taking steps before it happens. Make sure CHWs know how to identify it.
CHW Core Competencies
Find out all about what the CHW Core Competencies are, CHW roles, CHW careers, how to cross-train your staff, and how to get state certifications for the CHWs on your team