Heart disease is responsible for the most deaths of men, women, and people in most racial and ethnic groups around the US. People with heart conditions, such as hypertension or cardiovascular disease, have a higher risk of severe illness from COVID-19.
[Download Now: Heart Health Training Checklist]
Having a healthy heart is more important now than ever before. Luckily, people can protect themselves from heart disease and stroke in many ways. As a result, they can both reduce their risk and manage heart disease by making lifestyle changes like eating healthfully and staying physically active.
That's why health promoters–such as community health workers, promotores (CHW/Ps), or similar job titles, are so important to healthcare agencies. They can use patient education and community outreach to improve health outcomes and avoid emergency rooms (ERs).
Heart Disease and Stroke Training for Community Health Teams
Training your team in heart health makes sense. CHW/Ps with the right skills can guide patients and clients toward preventing heart disease and stroke.
This means making sure your employees or volunteers are equipped to work directly with clients and patients to provide heart health education, find motivation for change, connect people with local resources and providers, and help to set, accomplish and maintain goals.
Some of these skills are covered in standard CHW core competencies training, but a more focused approach on cardiovascular health pays off.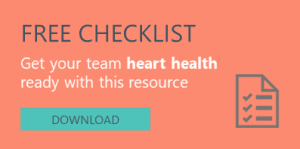 Organizing Onboarding Programs
Every organization that serious about improving cardiovascular health in the community needs a training checklist to guide them when hiring new people. Making sure each hire has essential heart health training sets the tone their experience at your agency. Be organized about training at the beginning of the hiring process, or when educating an existing team to have community health skills. That way, your team perform better and make a bigger impact at work.
Some agencies train staff members by on-the-job training only. That process is certainly useful and should be part of a comprehensive training program. However, one-dimensional training leaves out a comprehensive foundation of knowledge.
Teams who learn the basics first can make better decisions and take smarter actions when they're working with clients. They also stand to be better understood by a multidisciplinary team as part of a formal education plan.
Heart Health Training Checklist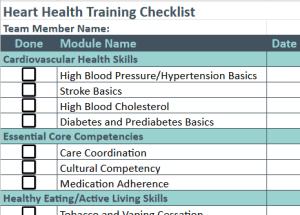 Using a checklist makes the evaluation process simpler. So, we've created a Heart Health Training Checklist for you to download for free.
You can use this checklist to:
Evaluate the training needs of existing staff
Help staff understand what they need to know in order to do their job
Decide what training capacity you have internally vs. what you need to acquire from a vendor
When you use the checklist, add when the training was completed and also the date when training needs to be renewed—usually every year. Also include where the team member was trained and also an official sign-off, possibly by a director or HR manager. HR departments sometimes require a certificate of completion, so make sure your employee hands that over when they're done.
Adapting Training to Various Teams
This checklist works for most teams that work in the role of a CHW. Here are some ideas for customizing it for different community-health oriented teams.
For Community Health Representative (CHR) Teams
Health disparities and social determinants of health
Basic anatomy/physiology
Community disease profiles
Emergency patient care
For Peer Support Specialists or Recovery Coaches
Add training in…
Behavioral health
Comorbidities and co-occurring conditions
Administering Naloxone
For Care Coordination Teams
Add training in…
Conducting community needs assessments
Documentation skills
Organizational skills
Service navigation
Telehealth
For Family Navigators
Add training in…
Conducting community needs assessments
Service navigation
Health disparities and social determinants of health