Nearly every day, a new study shows that healthy habits are the ticket to living longer and feeling better while you do live by avoiding diseases like diabetes. Eating well, exercising often, stopping smoking, keeping to a healthy weight, and limiting alcohol pays off.
Diabetes among your community members and patients is probably one of your biggest concerns. The burden of diabetes is staggering, and it continues to climb. The total costs of diagnosed diabetes have risen to $327 billion, when the cost was last examined, according to research from the American Diabetes Association.
The largest components of medical expenditures are:
hospital inpatient care (30% of the total medical cost),
prescription medications to treat complications of diabetes (30%),
anti-diabetic agents and diabetes supplies (15%), and
physician office visits (13%).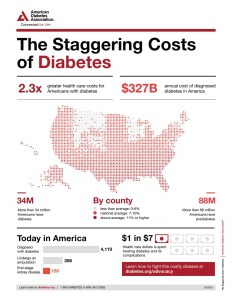 Diabetes affects the body's ability to fight off infections, leading to skin conditions and other complications. Diabetes also makes circulation a challenge and takes a toll on the cardiovascular system. By now it's also known that preexisting conditions like diabetes and hypertension increase the risk of getting infected with COVID and its severity.
With over 34 million Americans dealing with diabetes and up to 1 in 3 adults facing prediabetes, it's clear that resources to prevent and treat this chronic disease are much needed. Community health initiatives can educate and help individuals keep diabetes at bay by promoting healthy lifestyle changes like regular exercise, a balanced diet with lots of produce, and limiting substance use, including tobacco and alcohol.
Providing this kind of diabetes education and motivating people to make lifestyle changes is exactly where community health workers (CHWs) excel. Health initiatives targeted at reducing incidence of diabetes are creating more CHW jobs, because it's proven that CHWs help patients manage diabetes. It should be part of any CHW core competencies program.

Your program can be key in preventing diabetes and improving health outcomes for patients by training your team in outreach, peer education, and chronic disease management. The first step in training your team for diabetes interventions is identifying which skills you need to develop. From there, you can set up a training plan to best position CHWs for helping people to make changes.
The following three areas are a must for any diabetes education program:
[Add Diabetes and Prediabetes to any subscription—read more]
1. Tobacco cessation
CHWs need skills in tobacco cessation—including Motivational Interviewing—to address many health problems caused by smoking and using tobacco. Tobacco cessation skills are also critical for diabetes prevention and control programs.
Smokers are more at risk for developing type 2 diabetes than nonsmokers, and that risk goes up along with the number of cigarettes smoked. Smoking damages cells in the body by increasing inflammation and mixing chemicals in cigarettes with oxygen, called oxidative stress. Smoking can also lead to more belly fat, itself linked with diabetes.
Smokers who already have type 2 diabetes have more serious health problems. Nicotine can make insulin less effective. They're also more likely to have heart and kidney disease, poor circulation in the legs and feet, and blindness.
2. Physical activity
Americans sit too much and exercise too little, so CHWs who know how to get people up and moving are helping prevent a host of health problems in addition to diabetes. According to studies, moving around shows immediate health benefits, including reducing anxiety, improving blood pressure and insulin sensitivity.
Read more: How I Started a Community Health Initiative and How It Can Make Your Clients Healthier
Physical activity fights diabetes on several fronts. It makes a body more sensitive to insulin and helps people lose weight and maintain a healthy weight. It also helps control blood sugar levels.
CHWs who are trained in physical activity and active living are in a better position to make recommendations to people, no matter what their barriers are (physical, geographical, financial, etc.). They can also help patients and clients set and stick to goals and maintain an activity program that works.
3. Healthy eating
Finding a healthy eating strategy is probably at the top of a diabetes prevention and control program, and it may be one of the toughest strategies for people to follow. Following a diabetes diet means eating a plant-heavy diet that's rich in nutrients and low in fat and calories. People should add more fruits, vegetables and whole grains to their plates. That helps with weight loss and also controlling blood glucose.
Many people with diabetes work with a dietitian to develop a healthy eating plan, but CHWs can work with them to make food choices that work for each person's preference, location and culture.
Training in healthy eating can also be matched with training in physical activity to offer more comprehensive support to clients.
Read more: Your Agency Needs Training for Food Insecurity
Suggested training curriculum
A comprehensive CHWtraining curriculum for a team of CHWs looking to control diabetes should start here:
Diabetes and Prediabetes
Supporting Tobacco Cessation
Promoting Healthy Lifestyles
Motivational Interviewing: Peer Support for Behavior Change
A useful expansion pack of diabetes education resources includes options for supporting clients on their journey:
Providing Social Support
Health Literacy: A Start
Substance Use
During National Diabetes Month, you can add Diabetes and Prediabetes to any subscription on CHWTraining. If you're interested in building a diabetes education program for your team with these or other courses, click the button below to learn how to add certified training to your program. Our team will be in touch ASAP to schedule a time to chat.
Originally published November 15, 2019, updated November 20, 2020.