Core competencies for community health workers (CHWs) are the essential skills, knowledge, and abilities they need to do their job well.
These competencies are like the building blocks for being great at what they do and successful in their field.
Training that focuses on these core competencies helps them develop and improve these important skills so they can do their job even better.
While clearly stated definitions of core competencies may differ between employers and states, there are certain skills that are widely accepted as important for CHWs. In this article, we've collected these core skills together to provide a closer look at what your CHWs should know to help secure the success of your program.
Register Now: Core Competencies for CHWs [Free Session]
What Is a CHW?
Community health workers play an important role in the health of our communities. These wellness promoters' role is so important that the U.S. Bureau of Labor Statistics expects these jobs to grow by 17 percent. This is much faster than the average growth of other occupations.
A CHW is the frontline health worker that most directly affects patients' quality of life and helps guarantee their access to proper medical care and help when needed.
CHWs and other health promoters like community health representatives, promotores de salud, and peer educators play an active role in their communities' long-term well-being. CHWs work toward health equity and advocate on behalf of minorities and under-served populations. One way they do this is by providing health education and preventive screenings. Other health programs also promote healthy lifestyles and social support and guidance in terms of health care.
CHW Core Competencies
The following is a summarized list of core competencies to be a CHW, with each competency including a list of key skills. Download a copy of this list in the Core Competencies Resources Guide to take with you.
Some states have individual core competencies for their CHW program and many of them include professional development courses in health-specific topics such as managing chronic illnesses or maternal and child health topics. Some states offer certification, and some have grandparenting programs for CHWs with similar skills. Also read about the most important job skills to build a CHW career path.
Many states, regions and employers follow recommendations from The Community Health Worker Core Consensus Project (C3). The C3 Project recommends 10 roles and 11 skills, which you can read about here. Those skills are further broken into sub-skills.
The following list will give you a reliable idea of the core competencies CHWs need to learn to get a foundational education in the area.
1. Advocacy Skills
Speak up for clients about the kind of health care that's right for them.
Involve the community in clients' issues by promoting causes and using existing resources
Educate community members, legislators, the media and other professionals or organizations about clients' issues
Speak up for individuals and communities
Contribute to policy development and change
2. Outreach Skills
Build and strengthen communities by educating community members about programs and services that benefit them using community outreach
Create an action plan that includes initial research, recruitment and the necessary follow-up
Understand various populations and how to communicate with them in the ways that make the most sense for them
Build resource libraries to share with clients
3. Communication Skills
Use verbal and non-verbal language with confidence
Use active and empathetic listening and communicating
Look out for and overcome barriers to communication
Engage and motivate clients using clear and plain language
Connect clients to resources in their language, including medical interpreters and translated documents
4. Interpersonal and Relationship-Building Skills
Provide health coaching and social support, including self-management of chronic conditions
Use Motivational Interviewing techniques
Work as part of a team at work and with partners
Use de-escalation techniques and manage conflict
5. Healthy Eating Active Living (HEAL) Promotion
Tell clients about the benefits of healthy eating, physical activity and self-care
Help clients manage or even avoid chronic illness by adopting healthy lifestyle habits
Understand health behavior theories
Overcome barriers to healthy choices in environments, including food insecurity and other limitations
6. Cultural Competency and Responsiveness
Practice cultural humility
Understand the role culture plays in a person's health, including behaviors, language, customs, beliefs, and perspectives
Learn culturally appropriate and respectful ways of communicating
Deliver health care services that meet the social, cultural, and linguistic needs of patients to avoid health disparities
Build relationships with partners and colleagues to deliver culturally and linguistically appropriate services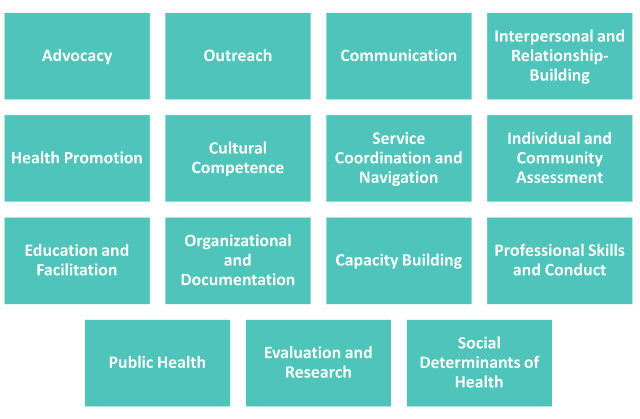 7. Service Coordination and Navigation Skills
Coordinate care among clients and those in internal networks and external networks
Make referrals
Improve collaboration among team members
Help clients follow action plans
Do follow-up and track the progress of clients
8. Individual and Community Assessment Skills
Participate in individual assessments as part of a team using formal assessment methods
Participate in community assessments as part of a team using formal assessment methods
9. Education and Facilitation Skills
Help clients find the motivation to learn for themselves
Improve the ability to break complex topics into manageable information
Research and collect pertinent health information from and for community members and clients
Plan and facilitate health classes, group discussions and decision-making
Use cultural context to bring accurate, relevant information to community members
10. Organizational and Documentation Skills
Document work in an organized way
Organize schedules, shifts, and reporting on team members and priorities to maintain clear communication with supervisors or the work team
Plan goals for individuals and the organization, taking priorities, budget, and other aspects into account
Oversee project development and ensure that priorities and objectives are being met
11. Capacity Building Skills
Help individuals explore and build their capacities
Build connections, support, and allyship within communities
Help individuals advocate for themselves through empowerment and education
Lead community initiatives confidently, as well as identify local leaders and provide them with support
12. Professional Skills and Conduct
Learn to manage time, resources, and priorities on an individual basis while balancing stressors
Assess situations and determine risk factors and potential solutions
Set goals and follow a work plan
Use critical thinking and problem-solving techniques and available resources to their best potential, including technology, assessment tools, and more
Follow ethical standards, including codes of ethics, laws, bills, and other institutional guidelines
Assume professional education and self-improvement as a pillar for personal development
Set boundaries and practice self-care strategies
13. Public Health
Develop a deep understanding of the public health structure
Understand the role and responsibilities that fall on CHWs' shoulders as frontline health workers
Identify challenges and opportunities in communities by addressing the four pillars of public health
Combine theoretical knowledge and culturally relevant experience to understand public health on a local scale
Dive into the complex nature and root causes of some of today's biggest health challenges, and explore how these affect healthcare services and populations
14. Evaluation and Research Skills
Help larger teams with evaluation and research projects to find root causes
Use evidence-based practices for research
15. Social Determinants of Health
Understands how outside factors affect the health of a person
Address health disparities
Help clients and patients access services
Help providers understand how Social Determinants of Health influence individuals
When you provide your team training in these essential skills, it helps them become better at their jobs, do things more efficiently and feel happier with their work. It also opens up more opportunities for career growth. Plus, by continually improving these core competencies, your CHWs can stay competitive and adaptable in their chosen fields.
CHW Training Subscriptions
CHWTraining's one-year learning subscriptions are customizable and provide high-quality education to your team. Perfect for training new employees who need core competencies or standardizing training for existing staff — on their own time.