The benefit of having community health workers in communities and health systems is proven. More agencies than ever are hiring CHWs, promotores, or other community-focused health educators. They have such a positive outcome on access to healthcare services and set up a link between healthcare and urban and rural environments that many agencies are hiring or transforming their staff to be CHWs.
Register now for CHW Core Competencies – How to train your team as CHWs
However, laying down a training path for these staff members or volunteers is less clear. Some states and employers have strict training requirements and regulations for CHWs. Others have none. In some areas, the types of training a CHW has received limits the kinds of duties they can perform, such as taking blood pressure readings.
What's more, every year brings a new cycle of best practices in health care, screening guidelines, new employees and promotions, and professional learning goals that set a CHW on a career ladder.
If you're an administrator trying to work with CHWs, you can easily get lost in the maze of requirements and job changes. You might wind up with an over-trained team of CHWs who have bachelor's degrees that they never use, or skip over core skills that would help CHWs do their job better.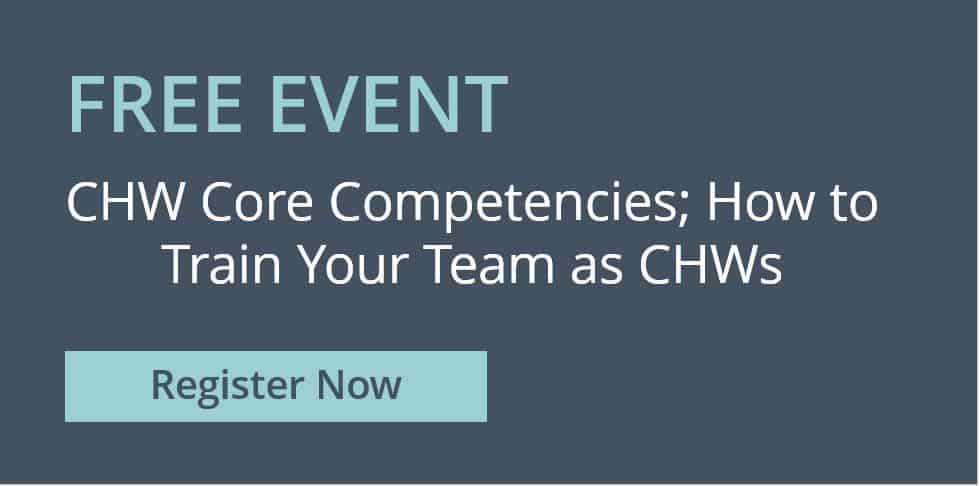 Build a CHW Training Plan
A CHW training plan is the answer. The plan should be a framework that will provide a navigation system for organizing, delivering, and repeating CHW instruction whenever you need it.
If you create an annual training plan, then you can include requirements that come up year after year (e.g., HIPAA compliance) and also have a pathway for introducing new topics to keep building the skills of your CHW team.
Follow these five steps, and you'll be on your way to setting in motion an effective learning program that can be used throughout the year.
1. Assess Your Current CHW Staff
The first step in starting an annual training plan for your program is to look at the training needs assessment to see what your CHWs need to know. Start by researching what kinds of skills your agency's CHWs and related staff already have. And then you can note what core competencies they're missing so you can build a comprehensive training plan.
Here's a strategy for assessing the existing skills and core competencies your team already has.
Once you have that information, you can organize training to fill in the gaps in their knowledge and skills.
2. Check CHW Requirements in Your State
Note that your state may have different competencies for CHW certification, so you should research local requirements. Depending on where you are, your state may have legislation on your competencies and required experience as a CHW.
The Core CHW Core Competencies Resource Guide helps you start your community health worker training program by knowing what the requirements are in every state.
3. Check with Healthcare Leadership
Finding out what your stakeholders need from a program and what your CHWs need to learn will make sure that everything fits together and supports your program's ultimate goals.
For example, imagine you run breast cancer screening program and the main goal of your program is to increase the number of mammography screenings in certain zip codes. Work backwards from there to come up with skills your team needs to know so you can deliver that to your trainees. This kind of team probably need to know the basics of what breast cancer is, risks of developing it, how it affects your community, prevention and treatment, and outreach and communication skills.
You might also want to include additional factors such as:
Overall agency goals or vision statement
The skills included in job descriptions
Compliance requirements, such as those for sexual harassment, HIPAA or patient rights
4. Decide Who Needs Training
Assume you've identified what your audience needs to learn. Next, figure out who needs to learn these skills.
Some people will be obvious, such as the CHWs directly working on your program. And others are less obvious, such as other support staff or community partners.
Think about the breast cancer screening program example above. If you ran this program, you might need to include in your plan:
Yourself, as well as other managers and coordinators from partner programs
Case managers
Patient navigators
Outreach workers
Nurses
Nonprofit community partners
Members of a multidisciplinary team
5. Optimize for Training Adult Learners
Keep adult learners engaged and help them retain what they learn by exposing them to the right kind of training materials. Some people define the word "training" very broadly, from a semester of college classes to a single PDF.
Keep adult learning principles in mind, and your CHWs will perform much better. Adult learning is relevant to the job, career and personal goals, task-oriented, interactive and usually self-directed.
Look at your training plan as a way to capture what works and repeat it in future offerings. It's a great idea store the training materials in various formats to appeal to people who learn best in different ways. Some examples:
Written process documents especially used exactly when needed. An example would be a protocol for intakes on the phone, which is kept by the phone.
Screen shorts of video captures of process, live presentations, or demonstrations by in-house or outsourced experts.
Hosted elearning that's available on demand. A learning management system (LMS) makes it easy to standardize training for everyone and is at hand whenever new hires need it or when veterans need an update. An LMS is a platform that you can use to deliver, track, and report on your training efforts.
Hands-on experience to bring the theory of training into practice. Give your staff the opportunity and chance to work on their new skills, and assign mentors and coaches to answer questions and provide guidance.
6. Connect All Parts of the Process
The point of creating an annual training plan is to work it into a repeatable cycle that supports overall goals. Here's a structure that fits many agencies: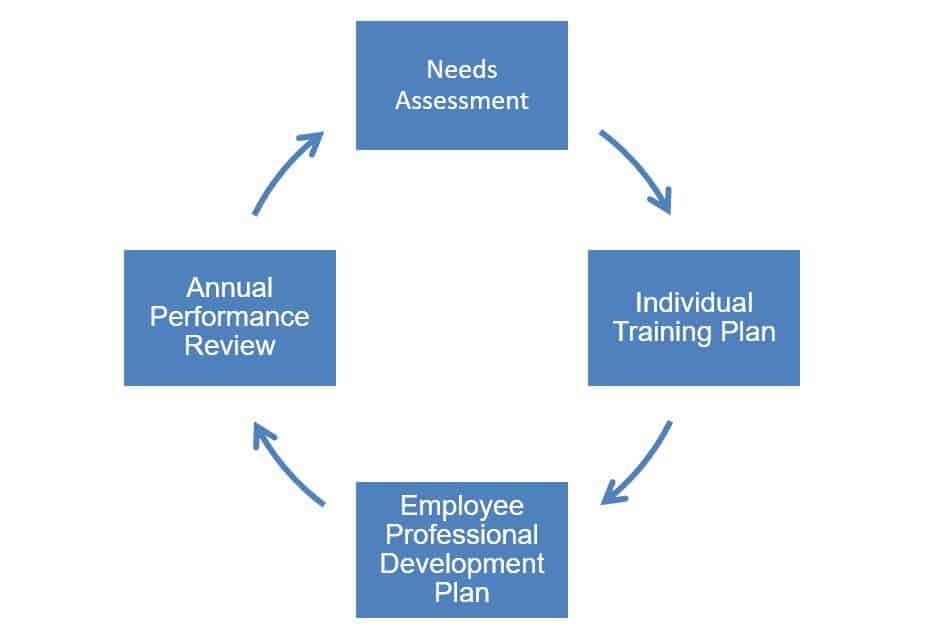 Start with the needs assessment or competency assessment to identify gaps to be filled with training.
Then find the areas for improvement and build those onto the CHW's individual training plan for their job.
That will go into a CHW's overall professional development plan, which is a chart for that person's career at your agency.
Every year, check progress against these plans in an annual performance review, identifying areas to focus on for the coming year.
By building structure into your training plan for the year, you'll get results and be ready for many years to come.