Use at-home time to brush up on existing skills or pick up some new ones.
The now-global spread of coronavirus is affecting everyone. This disease has brought a host of medical, economic, and political problems. It's brought all of us—CHWs, supervisors, program managers, clients, and patients alike–a ton of uncertainty and anxiety. This can have an enormous impact on everyone's emotional and physical wellbeing.
Whenever you're feeling unsure and anxious about the things you can't control, it can be helpful to focus on the things you can control, such as your education. While you or your staff might be stuck at home or in a quiet facility, the Internet is still on. So rather than panic-scrolling through social media feeds about toilet paper, put that energy into picking up some new skills or improving the ones you already have.
[Related: The 27 New Skills You Can Now Learn on CHWTraining]
10 Skills CHWs Can Learn from Home
They say there is no such thing as useless knowledge. These 10 skills are definitely worth learning—and learning them can make time based at home time well spent. In the future, these skills form a great workforce development path and can make each CHW a better worker.
1. Meditation and mindfulness techniques
Relaxation and mindfulness are skills that can help you in your personal and professional life—especially now when everything feels uncertain. Mindfulness practices can help people manage stress, deal with serious illness, and reduce anxiety and depression, according to the NIH. These are helpful skills to pass on to clients, employees, and the people around you.
"The most important thing to know when starting a meditation or mindfulness practice is that there is no right or wrong way to 'do' it," says Laura Wells, a facilitator and coach who works with individuals, teams, and organizations to increase focus and build compassionate leadership.
"It is simply about learning to relax into the present moment — there's nothing we have to, or can, 'do' to make the present moment happen. This is about allowing the space for a minute or two or five to not be in charge of what's occurring. Simply breathing and bringing attention to what is already here in our experience."
If you want to practice now, you can join Wells for a free 30-minute virtual meditation and connection session Tuesday, Mar 24, 2020, 12:10 PM Pacific Time. Click here to join and use meeting ID: 144 588 211.
2. Depression, Anxiety and Stress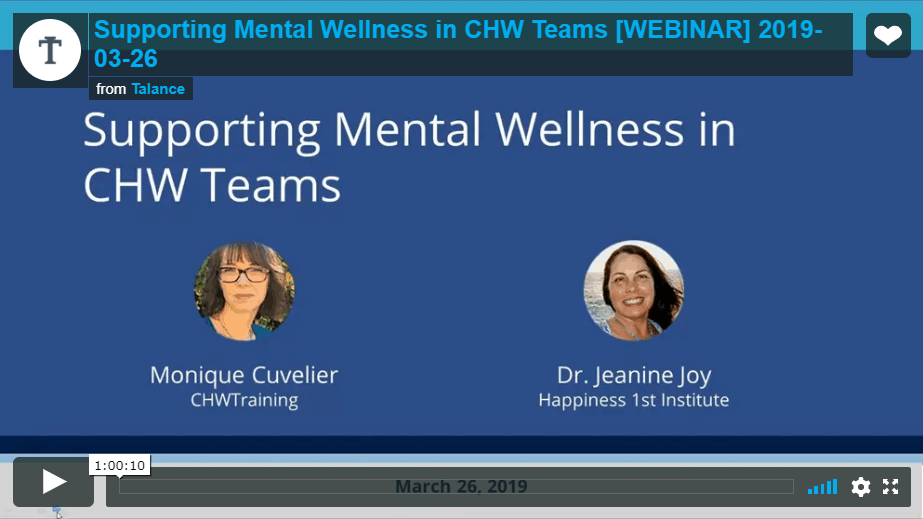 Nearly everyone is feeling depression, anxiety, and stress right now, so it helps you and anyone you work with if you can pick up management skills. Start by recognizing the symptoms of depression from the National Institute of Mental Health.
Then what to do if you see them in yourself or in another. This guide will help you understand when it's time to make a behavioral health referral.
Supervisors and program managers supporting a community health team with limited resources can easily feel overwhelmed. You have to think about self-care strategies to share, how to help them control stress, and spot signs of burnout and compassion fatigue.
Sign up for Supporting Mental Wellness in CHW Teams, a free on-demand session on improving your team's mental wellness, identify signs that an employee is at risk for depression, anxiety, or secondary trauma, and show you how you can help your team improve their personal and professional lives.
3. COVID-19
If you're looking to learn more about coronavirus, then the WHO is the place to start for any health professional. The OpenWHO Massive Online Open Courses for COVID-19 provide learning resources for health professionals, decision-makers, and the public. As the pandemic continues to evolve, new resources will be added, additional language versions will continue to be rolled out, and existing courses will be updated to best reflect the changing context. Some sample courses are "Operational Planning Guidelines to Support Country Preparedness and Response" and "Infection Prevention and Control."
4. Smoking cessation and vaping


People with unhealthy lungs are particularly at risk for complications from coronavirus, and many other health issues. Learning about these risks can help you talk clearly to clients who smoke. There's plenty of new information regarding severe lung disease associated with using vaping devices and e-cigarette products, so now is a time to learn about that, especially among youth.
"There are many websites, webinars and listserves available for folks to learn the latest on commercial tobacco and vaping," Says Norilyn de la Peña, Cessation and Outreach Project Manager at Public Health — Seattle & King County. It's important to seek resources that are credible. People want information on what vaping products are how to have effective conversations about their use. She suggests learning about these tobacco cessation and vaping education topics for all providers:
What the products are and how they are used
Why it's important to keep flavored tobacco and nicotine from youth (affects on brain and lung development, increase chance of addiction, increase likelihood of tobacco use, etc.)
Media literacy and tobacco and vape marketing intentionally target low-income communities
The importance of sharing valid information from appropriate online resources
How to talk to young people about vaping
Alternatives to nicotine and tobacco use; positive stress management and coping skills
What resources are available
She recommends the following general resources:
Public Health — Seattle & King County's website has Lung disease related to vaping and e-cigarette use. It has an excellent collection of materials, templates, and FAQs for providers, partners, and schools on understanding vaping and how it affects the lungs.
5. Chronic illness
CHWs are vital to successfully managing and avoiding chronic illnesses such as diabetes, heart disease, breast cancer, and cervical cancer. Since CHWs are health brokers who can connect providers with communities, take some time to learn more about the chronic diseases in your community and how CHWs can help.
If you're a program manager or administrator new to CHWs, do some deep reading on building the policies and systems that support CHWs to see how they fit in with your organization. Start with the excellent document "Addressing Chronic Disease Through Community Health Workers: A Policy and Systems-Level Approach," (PDF) from the CDC. Then take some time to watch Examining Community Health Worker Models in Managing Chronic Conditions.
If you're a CHW, you can learn how chronic illness and mental health are closely linked. This video Ask an Expert – Depression and Chronic Illness Webinar (1:19) explores the relationship between depression and Nephrotic Syndrome, specifically, but the topic relates to people living with many chronic diseases.
CHWs can also save on CHWTraining's chronic illness bundle. It helps you master working with clients with breast cancer (Breast Cancer Screening), cervical cancer (Cervical Cancer Screening and HPV), Diabetes and Prediabetes, and High Blood Pressure (Hypertension). Along the way, you'll learn how to screen for disease, talk to clients, and connect to resources in your agency and community.
6. Immunizations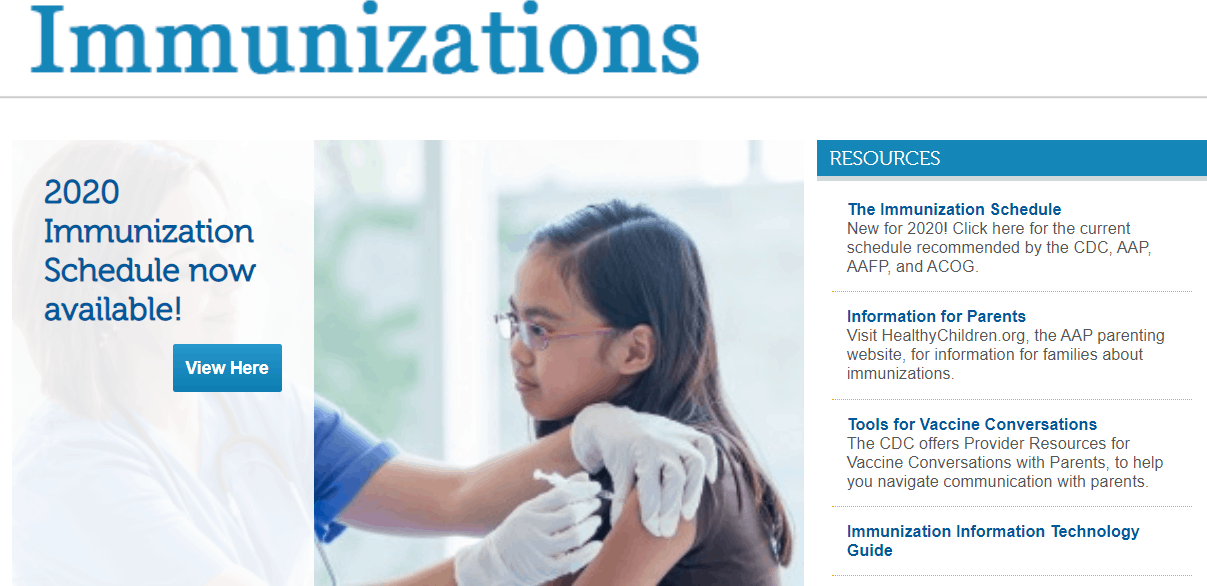 Parents and individuals are too reluctant to get vaccines, thanks in part to too much mistaken information. Patient education is an important way to let people know that vaccinations have an excellent safety record and are an important part of preventing serious diseases. A simple flu shot, covered by many health plans, is the best way for people to protect themselves and their children from getting the influenza.
The AAP is an excellent resource for educating parents and any individual on immunizations. It includes the recommended immunization schedule, information for parents, and communication tips for the conversations you'll have with parents.
7. Motivational Interviewing interventions
Motivational interviewing (MI) is a technique you can use to help people discover their own reasons for positive change in a non-confrontational way. It was originally developed as a way to help people quit smoking, but MI techniques can be used for helping people make any kind of behavioral change.
Demonstration and practice are the best ways to learn and improve your MI skills, so spend some time reviewing some sample intervention videos, such as these:
8. Healthy cooking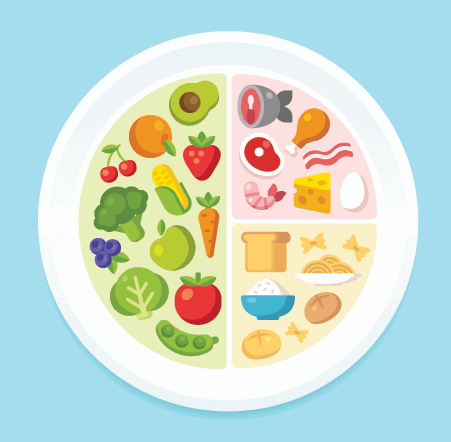 Nutrition and health are closely related, from a healthy diet helping children grow up to avoid chronic diseases to managing—and maybe even reversing—conditions like diabetes. Learning healthy cooking is an excellent skill you can pass on to your clients, and your own family.
Try My Doctor – Kaiser Permanente, which has many how-to videos, ranging from short-and-sweet lessons like Add Flavor Without Salt (2:33) for hypertension, to Tips for Cooking Healthier (2:01), to in-depth webinars like Fresh Food Ideas (1:01:00) for parents.
9. Hygiene
Time to get serious about hand hygiene. Learn, demonstrate, repeat.
10. Language
Communication is a key skill for CHWs, and being able to speak and understand more than English helps. Learning a foreign language, such as Spanish for English-speakers or English for Spanish-speakers, is a great way to unlock better employment options and connect clients to resources.

Smart phone apps like Duolingo are great vocabulary builders, and you can do them whenever you have a few free minutes. Another fun one is Lirica, which matches language with pop music. It takes the music from such musicians as Enrique Iglesias and turns it into Spanish vocabulary and grammar lessons.
Keep building skills
Just reading a PDF or a PowerPoint presentation isn't enough to really learn. Practice your skills as soon as you can. Keep refreshing your skills once you've learned something. Bookmark this page so you can keep revisiting these resources and keep them fresh.

https://chwtraining.org/wp-content/uploads/2020/03/woman-sitting-on-white-couch-using-laptop-computer-3960127.jpg
426
640
Monique-A
/wp-content/uploads/2019/03/logo-updated.jpg
Monique-A
2020-03-20 06:50:41
2020-07-17 14:58:21
10 skills CHWs can learn right now—without leaving the couch