By Gabrielle Carrero
The coronavirus is emptying America's cupboards. Growing food insecurity is making more people wonder where their next meal will come from.
Income disruption and limited access or availability of food at grocery stores are only a few reasons why families and individuals are experiencing it for the first time. Meanwhile, many that were already living with food insecurity are feeling added pressure.
Access Now: CHW Core Competencies Resource Guide [FREE GUIDE]
Agencies can help by understanding vulnerabilities in local communities, including where food deserts are.
It is also helpful to employ sensitive screening questionnaires to detect who might be food insecure and connect people experiencing food insecurity with sources of nutritious food.
Training your team to increase outreach efforts to connect those in need to food will ease the burden individuals and families are going through.
Using community outreach and engagement strategies for food insecurity might include talking to local groups, using local media and social media to promote food resources, or appearing at community events to do demonstrations and build linkages.
What Food Insecurity Is
Reviewing the background of food insecurity, causes, consequences, and responses prior to COVID-19 offers some insight into the complex environments people need to navigate to keep nutritious food on the table.
The United States Department of Agriculture (USDA) defines food insecurity as "a household-level economic and social condition of limited or uncertain access to adequate food."
"Adequate food" here means safe and healthy food—not something like a candy bar for dinner.
Fewer than 1 in 10 US adults and adolescents eat enough fruits and vegetables. – CDC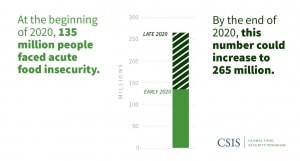 The USDA reported that 37.2 million people were in food-insecure households in 2018. They also found that food insecurity happens in episodes averaging seven months to a year. That number is expected to rise hugely this year.

Source: Global Food Security Program, Center for Strategic & International Studies
People in food insecure households are more likely to suffer from hunger and the health issues associated with poor nutrition and diet like diabetes, cardiovascular disease, and obesity.
Children with a lack of food or poor nutrition harms their healthy growth, cognitive and social development, educational achievements, and mental health. Similarly, the health of the elderly can decline from little or unhealthy food.
"These groups are more at risk primarily because of a lack of money to buy food," says Elizabeth Kimball, who manages the Healthy Eating, Active Living Program at Public Health – Seattle & King County. "It's not because a person is disabled but because most likely they cannot work, have high medical bills, or live on a fixed income."
Kimball is leading the King County Healthcare and Food Insecurity Learning Network, a Community of Practice whose goal is to eliminate food insecurity and improve health. The group is developing an online training to facilitate screening for food insecurity in communities.
"We don't want to perpetuate stereotypes or prejudice by saying that people of color are more likely to be poor without saying how society contributed – otherwise people may assume that it is the fault of people of color for being poor," she says.
Root Causes of Food Insecurity: Disparities and Discrimination
According to a 2014 Hunger Report by Research Triangle Institute (RIT), food insecurity doesn't hit all sectors of society the same. People from low-socioeconomic status, racial or ethnic minority groups, single-parent households, and households that include persons with disabilities are more likely to be at risk.
The reason is pretty simple: lack of money. For example, if someone is disabled, it's harder for them to find work or they might have high medical bills. Living on a fixed income means less money for everything, including food.
"You cannot take on poverty and hunger without taking on historical and contemporary discrimination," Dr. Mariana Chilton, a professor of public health at Drexel University's Center for Hunger-Free Communities, said in an article for The Nation.
This comes from a study that says it's impossible to deal with food insecurity–like all health disparities–without taking on structural racism.
"How are racism and hunger related? Being mistreated at school, on the job, in health care and beyond, translates to lower wages and exclusion from society," Sherita Mouzon, a community engagement specialist also at Drexel, said in an op-ed for the Philadelphia Inquirer.
"When employers discriminate, people of color make lower wages than white people. When health-care providers discriminate, people cannot get the health care they need, and when the courts and the police are biased, they are more likely to put our family members behind bars, which damages their prospects for economic security."
Eating well is imperative to health, and COVID-19 has forced households to make hard decisions when it comes to food.
CHW Training Bundle
Kickstart your health program with these resources.

COVID-19 and Food Insecurity
The coronavirus has created many substantial barriers for people to access food, for example:
Food supply system disruptions have limited the availability of food in grocery stores
Food pantries and food banks have high demand and long wait lines
Some individuals are not healthy enough to leave home to get food
Some people are especially cautious leaving home because they have immunocompromised family members at home
And, of course, many more people can't afford food.
The Department of Labor reports that millions of Americans are filing for unemployment benefits. Record unemployment rates have destabilized food budgets and left many uninsured without an employee-sponsored health plan.
With drastic changes in economic and physical circumstances since the virus, it is no wonder that so many are experiencing food insecurity for the first time.
A recent survey shares the impact COVID-19 has on children and the elderly, two of the same groups at risk or enduring food insecurity before the virus.
According to The Survey of Mothers with Young Children, "40.9 percent of mothers with children ages 12 and under reported household food insecurity since the onset of the COVID-19 pandemic."
Comparatively, 15.1 percent of mothers with children of the same age reported food insecurity in the Food Security Supplement (FSS) 2018 survey.
A survey from December 2019 by the University of Michigan National Poll on Healthy Aging found that 1 in 7 older adults experienced food hunger in that past year. Because the elderly have been advised to isolate to safeguard health, food assistance programs like Meals on Wheels are seeing an increased demand of aid.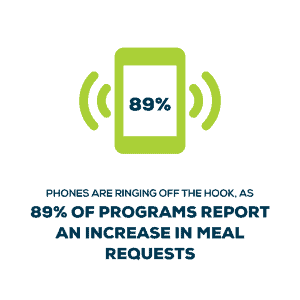 Source: Meals on Wheels America
The pandemic is exacerbating the pre-existing issue of food insecurity. Without dedicated education and intervention for healthcare staff and non-clinical workers such as community health workers, the potential for long-lasting impacts on community members increases. Until now, food insecurity is a real and lived experience for many, and since COVID-19, it is also new and unfamiliar.
5 Ways Your Team Can Address Food Insecurity
Here are some ideas of how healthcare teams can help with food insecurity:
Training individuals and teams on what food insecurity is and how to navigate food assistance since COVID-19 is imperative to reaching impacted communities.
Make sure your team understands the basics of healthy eating and active living so they can promote healthy lifestyles to clients.
Educate your agency team about where food insecurity happens. It cannot be stressed enough that households that are already vulnerable to food insecurity pre-pandemic are mainly found in communities of color, inner city and rural areas, and low-income homes. These communities always face battles in health equity and deserve visibility when it relates to their health, especially now.
Train your team in food insecurity screening. Some programs, such as the King County Healthcare and Food Insecurity Learning Network, offer in-depth training that show participants how to sensitively screen.
Use screening tool kits. Feeding America has a useful Food Insecurity Screening Toolkit for how healthcare and non-health care professionals might treat food insecurity in individuals.
A regular source of nutritious food can make a tremendous difference in the lives of Americans, and it's more important now than ever for agencies to build the infrastructure to help them.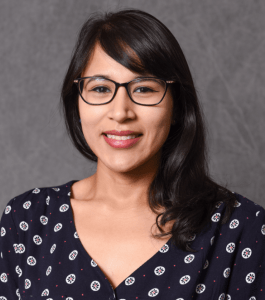 Gabrielle Carrero is a Latina educator and writer from Brooklyn, NY that now lives in Durham, NC. She teaches First Year Writing at NC State University.
CHW Core Competencies
Find out all about what the CHW Core Competencies are, CHW roles, CHW careers, how to cross-train your staff, and how to get state certifications for the CHWs on your team