Anyone supervising a community health worker team knows how important it is to support clients with depression, anxiety or other behavioral health issues.
What they might not realize is that their own staff might be feeling the same as their clients.
We're taking a closer look at the negative effects of feelings of depression, anxiety, burnout and compassion fatigue on CHW staff at the Unity Conference 2019, which I'm previewing on March 26 with co-presenter Jeanine Joy, Ph.D. We'll offer some solutions and strategies managers and supervisors can share with their team.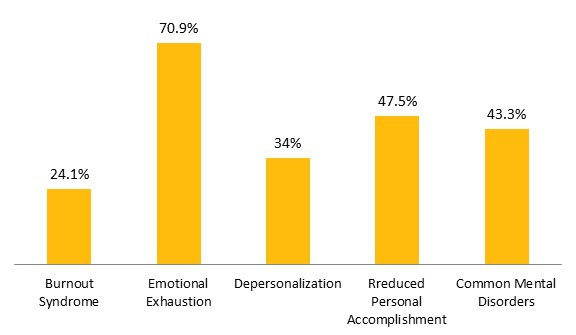 Burnout and mental disorders in CHWs
Why CHWs Feel Overwhelmed
CHWs create strong bonds with clients and report that they feel fulfilled by their jobs. However, CHWs are often called on to respond to mental health crises, but they might not have the training to handle it. They could be overworked and become discouraged when a relationship they build with a client ends. When they take on too much, they run the risk of depression, anxiety, burnout and compassion fatigue. When their mental wellness is at risk, so is your program.
"CHWs are often lauded for their ability to develop trust with peers, yet this willingness and ability to create enduring emotional bonds could threaten programme delivery," says a study published in BMC Health Services Research.
In fact, community-based health workers are more likely to have problems with depression and mental health issues than the other members of their health care team.
Supervisor Training Gaps
In the process of developing three new modules for CHWTraining's catalog (Depression and Anxiety, Motivational Interviewing and Supervisor Training), we immediately noticed some troubling trends:
Supervisors lack general training for managing teams of CHWs.
Supervisors lack training for dealing with mental wellness issues among their staff.
Many programs have few resources for supporting either supervisors or their staff.
Clearly, there's a training and support gap that needs to be addressed. We've added courses on this topic to our online community health worker certification program, and we're taking a deeper dive in an upcoming presentation "Supporting Mental Wellness In CHW Teams" (March 26 at 10 a.m.).
Here are some quick highlights.
Burnout, Depression and Anxiety Warning Signs
If you work in a close team, you might be able to easily tell if someone is feeling undue stress. In our behavioral health course, we flag these as some of the items to look for if you suspect someone needs help:
Sleeping too much or not enough
Sudden weight loss or gain
Avoiding people and activities
Smoking or drinking more, or using drugs
Mood swings
Apathy and calling in sick to work
Support Strategies for Supervisors
Start Before Problems Begin
One of the best things you can do is look out for any warning signs. But it's even more effective to help your team avoid these dangers in the first place. Not only will you prevent any problems, but problems are much harder to address when they've already happened. Be proactive about the mental health of your team.
Listen Up
If you're not sure if one of your CHWs is starting to feel the pressure of their job, listen. Be the kind of manager who is willing to listen to work-related issues. This gives employees the sense that they can come to you when they need to share. If they don't volunteer information, make a habit of asking.
Similarly, encourage teamwork and bonding among the team. If you're not there to lend an ear, someone else who understands the unique nature of being a CHW can provide a sympathetic ear.
Burn off Stress
At the top of the list is burning off stress. Organize informal picnics or potlucks with your team, so you're connecting with each other in a way that's not all about work. Or suggest walking meetings to recharge, as they do at Berkeley County School District, Moncks Corner, S.C.
Some organizations provide a mindfulness space to encourage relaxation or meditation. See if you can assign a room as a place where your staff can stop feeling overwhelmed. If you don't have space or have a workforce that isn't in a room together, encourage them to sit at their desk quietly, noticing their body's sensations as they sit.
Mental Health Days
Your program should also offer mental health days as part of a benefits package. However, you should also suggest your staff take advantage of them. This can help CHWs realize that you support their mental wellness and that they can feel comfortable asking for time when they need it. Same goes for vacation time.
So, would you like to learn more?
Join us as we discuss improving your team's mental wellness, identify signs that an employee is at risk for depression, anxiety, or secondary trauma, and show you how you can help your team improve their personal and professional lives. Sign up for this free presentation now.