Everybody wants the best talent working on your team and with the community. You'd be crazy not to think very carefully about the next community health worker you recruit.
It can understandably be tiring to search for applicants, do interviews, send through training and go through all of the other steps involved in shuffling a new staff member through your organization. It's the same whether your big or small. It takes work.
[FREE DOWNLOAD] Remote Onboarding Checklist for CHWs
Start with a CHW Recruitment Strategy
That's why it's smart to set a recruitment strategy before you even begin. A recruitment strategy is a plan you use to attract, identify and hire qualified candidates. It's not only a rock solid way of building a team, it will make your life easier.
It makes sense to start from an organized place with a clear path. According to Zippia, top candidates are only on the job market for 10 days, on average. So you'd better be prepared to act fast.
Your strategy should be adapted to your workplace, but in general, it should have these elements:
1. Set Goals
You know you want to hire a CHW. Go deeper. Spell out exactly what your goals are, such as a number of positions to fill, diversity or inclusion goals and the types of populations the CHW will be working with.
For example, you might say that you have two positions to fill, they will be working in the northwest part of the state, and they should have strong knowledge of the population that lives there.
2. Do a Community Health Worker Job Analysis
With general goals set, you can do a more careful analysis of the job to be filled. A job analysis is the process you go through to figure out tasks, responsibilities, skills, objectives and other criteria for a specific job.
Being able to identify all the tasks and responsibilities of a person who will join your care team is the first step to hiring for the job of a CHW. Without knowing these, you can't really know how to build a job description to put into a job posting.
Read an in-depth article on how to perform a job analysis.
3. Identify Sourcing Channels
Based on the job that your CHW will be doing, then you can identify the best channels for sourcing candidates. We previously wrote about posting on social media, working with partners and making a presence at job fairs. You can read more about those recruitment ideas here.
In short, include a mix of recruiting methods. These can include:
Job boards
Community partners
Employee referrals
Recruiting agencies
Industry events, such as a CHW conference
Be creative. You never know where your next good tip is going to come from.
4. Set Your Timeline and Budget
"As soon as possible" might be when you want to hire, but you'll need something more concrete than that. Create a recruitment timeline with specific deadlines for each hiring stage.
This is a good time to also set your budget. As you go through each step, decide how much you can spend on each task and external expense so you can stay within budget.
Here's an example timeline you can customize:
| | | |
| --- | --- | --- |
| Week # | Description | Person Responsible |
| 1-2 | Write job announcement and post it | |
| 2-3 | Applications arrive | |
| 3 | Review applications and shortlist promising candidates; schedule interviews | |
| 4 | Do phone or video interviews with shortlisted candidates | |
| 5 | Do in-person interviews with those who pass the first round | |
| 6-7 | Do final interviews and negotiate job offers | |
| 8-9 | Do pre-employment paperwork, including background check results and reference checks, prepare for onboarding | |
| 10-11 | Do onboarding including orientation, training, and necessary resources. | |
| 11 onward | Monitor the performance of the newly hired community health worker during the probationary period (typically 3-6 months). | |
5. Define Your Ideal Candidate
Sketch out the perfect community health worker by creating a persona. This will help you envision who that person is so you can make a better match for the role. It might be something like: a CHW with at least two years' experience, speaks Spanish, educated in core competencies, knowledge of health promotion.
Use this persona to help you target your next hire.
6. Set a Clear Selection Process
Set a clear and consistent selection process. Be careful to decide how you will interview and assess each applicant so you can do it the same way for every person. Create evaluation criteria that you can use for each candidate. And make sure every interviewer knows and follows the selection process.
7. Commit to a Diverse and Inclusive Workforce
If you're hiring a community health worker, then you must know the importance of hiring people who reflect your local community. Increasing diversity, inclusion and representation should be part of your plan for building any team.
Harvard Center for Workforce Development has an Inclusive Hiring Resources Guide that can help guide you create strategies to promote diversity and inclusion and eliminate bias.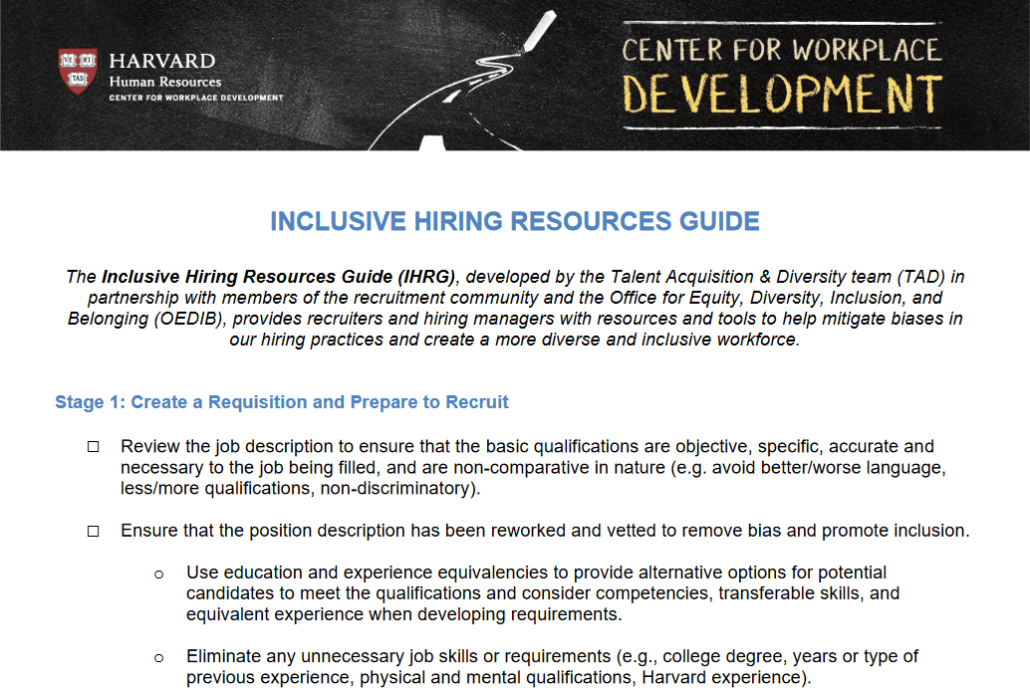 8. Invest in the Right Technology
Some technology will help you hugely, especially if you have several CHW applicants. You may consider investing in applicant tracking systems (ATS) or other HR software to help you comb through all the incoming applications.
You can also use technology that helps with resume screening, interview scheduling and candidate communication.
9. Set up an Onboarding Process
Think about the onboarding process for new hires. Onboarding is tailored to the specific role the person is starting. It includes details like financial forms, the creation of work accounts, and an introduction to the immediate team the person will join. And remote onboarding is simply onboarding done virtually.
Download our Remote Onboarding Checklist for CHWs for specific tips you can follow.
Yes, it's a lot of work to search for applicants, but if you're organized about it and follow a recruiting process, it will be much easier for you. Plus, once you set the process, you can use it with any new community health workers you recruit.
You've just read through nine very helpful steps with examples you can follow to set up (or improve) your recruiting process. So get started with it right now. Even if you're not hiring yet, you'll be glad you put some work in when you do need your next CHW.
What's your process for recruiting CHWs? Do you have any tips that weren't covered in this article? Share with us on LinkedIn.