Employment opportunities for community health workers are better than ever. Organizations like the Centers for Disease Control and the US Department of Health & Human Services are frequently announcing new programs, funding and resources for CHWs in an effort to improve health outcomes and reduce the cost of hospitalization and long-term conditions in the health system. It's no wonder why more organizations are looking for ways to include CHWs and provide more CHW core competency training for internal staff. The Bureau of Labor Statistics projects continued growth for the CHW career between 2020 and 2030 — so now is a great time to uplevel your core skills and put yourself on a CHW career path while improving health outcomes for your community.
→ Enroll Now: CHW Core Competencies Online Training [Certificate]
Careful planning of a CHW career path can allow anyone who starts with an entry-level job to expand it into a rewarding career. As the need for this role keeps growing, CHWs can not only increase the health knowledge of their community members but also increase their own reach to more people and other job opportunities.
CHW Job Outlook
The statistics are inspiring. According to the Bureau of Labor Statistics, jobs for CHWs are expected to rise by 18.1% by 2026. That means that 10,400 jobs could open up. Also, salaries for already employed CHWs are increasing. Wages are good, about $23.49 per hour, or $48,860 per year.
Developing the skills to become a CHW can open the door to a money-making and secure career.
Building a CHW career path — rather than just finding an entry-level job — involves understanding the core competencies and what kinds of skills are useful for growth into the future.
In order to earn a profitable job and build a lasting career, current CHWs and people who would like to be one need to keep their health and professional skills sharp. They need to take extra training and prove their knowledge and expertise through certification.
CHWTraining's Core Competencies Training offers complete, up-to-date training for employers who want to provide staff with foundational skills and knowledge of specific health topics, such as diabetes or breast cancer.
We created the quick guide below as a tool for employers who want to build sustainable training programs and CHWs who want to understand the job qualifications.
CHW Core Skills
CHWs are employed in every state of the US (except South Dakota, for which no data is available), according to the BLS. Each state has independent job requirements, which vary from college degrees that take multiple years to complete to on-the-job training. Some states require certification, and some employers require certificates of completion to show successful core skills training.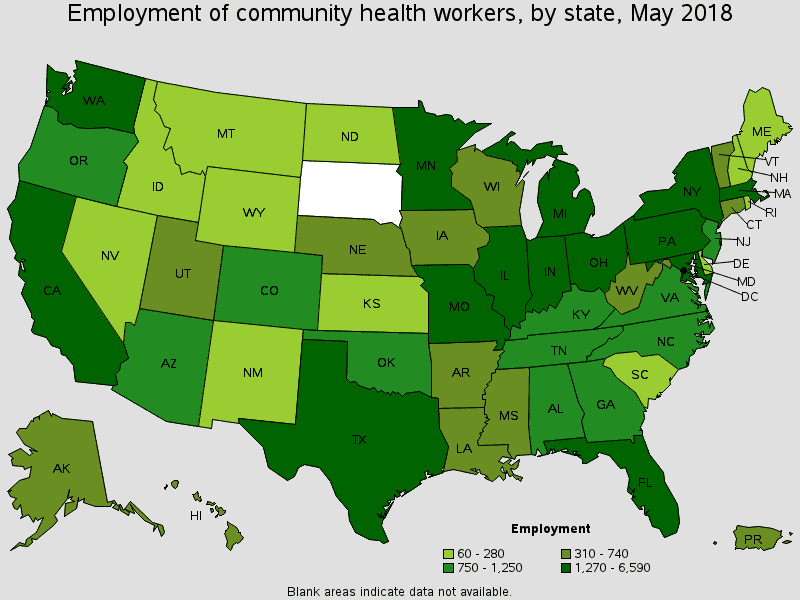 Source: Bureau of Labor Statistics
However, many core skills training requirements are similar. The following are common skills required by many programs and advisory committees. Here are some CHW core competency training areas common among the Washington State Department of Health's CHW program, the Roles and Competencies from the Community Health Worker Core Consensus (C3) Project, the US Department of Labor Employment & Training Administration, and the Massachusetts Department of Public Health. You can compare more national requirements at State Community Health Worker Models from the National Academy for State Health Policy (NASHP) or from this guide.
15 Most Important Core Skills To Build a CHW Career Path
CHW Core Competency
Example Skills
Advocacy Skills/Capacity Building Skills
Empowering clients
Motivating people to manage their own health and advocate for themselves
Helping clients and patients set and reach their goals
Supporting behavior change
Identifying and overcome barriers
Understanding community cultures and ways to reach members
Care Coordination or Service Coordination and System Navigation
Navigating systems
Collaborating with partners to connect clients and patients to resources
Helping service providers work together
Telling systems about needs of people
Helping to develop and implement care plans
Communication Skills
Listening skillsLanguage skills
Building rapport
Using nonverbal communication
Resolving and avoiding conflict
Understanding and working within culturally diverse communities
Cultural Humility/Cultural Responsiveness
Serve as a bridge between different cultures
Translating healthy behaviors into culturally appropriate equivalents
Understanding and working to reduce health disparities
Using cultural sensitivities for all diverse groups
Behaving respectfullyIdentifying biases
Education and Facilitation Skills
Using various ways to deliver health information clearly
Explaining terms in plain language
Promoting healthy behavior change
Finding and use resources to develop self-efficacy skills
Evaluation and Research
Identifying issues in communities and their causes
Conducting evaluation projects
Collecting data
Sharing results
Communicating to stakeholders to make changes in services
Experience and Knowledge Base
Fully understanding the community, including social determinants of health, health issues, ways to improve health and self-care, and basic public-health principles
Understanding how US social-service systems work
Individual and Community Assessment and Direct Services
Identifying needs, strengths and resources of communities
Helping meet needs
Helping clients understand their needs and overcome barriers
Providing social and health support
Interpersonal and Relationship-Building Skills
Establishing trust with people and in communities
Being open-minded
Using Motivational Interviewing techniques
Outreach Skills, Methods and Strategies
Developing and implementing outreach plans
Sharing information about programs and resources
Creating and maintain relationships with community members and partners
Healthy Eating Active Living (HEAL) Promotion
Educate clients about the benefits of self-case, physical activity and healthy eating
Teach clients about how healthy lifestyle habits can help manage or prevent chronic illness
Overcome barriers like food insecurity for healthy choices
Service Coordination and Navigation Skills
Coordinate service for clients and those in internal and external networks
Make referrals
Track clients' progress and follow up
Help clients follow their care plan
Organizational and Documentation Skills
Break down complex topics to make them manageable for clients
Research and collect health information from and for community members and clients
Bring accurate, relevant health information according to cultural contexts
Professional Skills and Conduct
Develop time management skills
Set goals and clear action plans to achieve them
Set clear boundaries with clients and coworkers
Follow ethical standards like codes of ethics, laws, and institutional guidelines
Public Health
Understand the public health structure
Understand CHWs' role within the healthcare system at large
Identify the challenges and opportunities in a community by addressing the four pillars of public health
Apply a combination of theoretical knowledge and culturally relevant experience to understand public health on a local scale
Originally published Oct 31, 2019, updated May 17, 2022.
Core Competencies for CHWs
Register now for this foundational course and save with the Early Bird Discount.