CHWTraining launched its Diabetes and Prediabetes more than six years ago, and it remains our top requested course. It's not hard to understand why, as diabetes continues to grow in the U.S. and trigger a host of other chronic diseases.
Adults in the U.S. need diabetes support, especially now when the coronavirus brings new threats to communities and people who already have the disease. Without the proper education about diabetes, patient populations will only decline if trends continue on the path they're on.
CHWs, Diabetes and Prediabetes
Community health workers, community care coordinators, health promoters and others are more important than ever in helping people understand their diabetes or prediabetes diagnoses and control it.
CHWs can advise on what diabetes is, how to interpret blood sugar levels, share healthy eating ideas and recipes, and give ideas for physical activity. They can also connect clients to professionals who can provide more support beyond a physical, such as dental workers and dietitians. They can also help vulnerable and minority communities who have statistically worse health outcomes from diabetes.
That's why we created Diabetes and Prediabetes (and the Spanish language Diabetes y prediabetes) included it as part of our chronic illness learning track. As part of our latest updates to the course, we took a careful look at how things have changed with diabetes.
[Related: Add Chronic Illness training to any Learning Track]
Diabetes is on the Rise
The number of people with diabetes in the US is up. In the United States, an estimated 34.2 million people of all ages have diabetes. That number continues to rise. In 2018, about 1.5 million adults in the United States were newly diagnosed with diabetes, according to the CDC's National Diabetes Statistics Report 2020.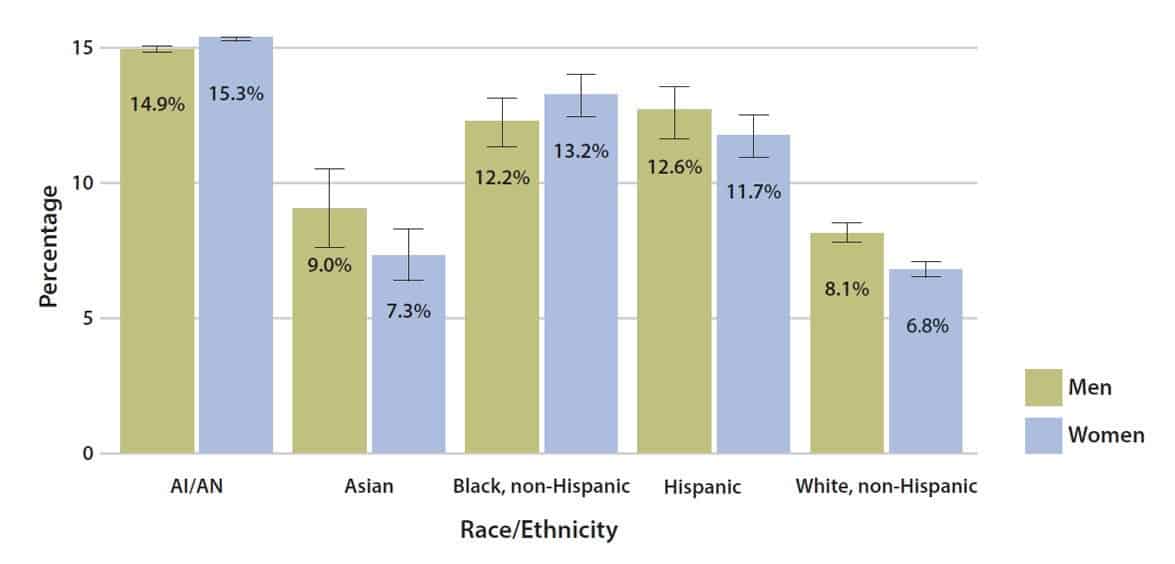 [Source: CDC]
Diabetes is the seventh leading cause of death in the United States.
African Americans, Hispanic/Latino Americans, and Native Americans are at a higher risk for both type 2 diabetes and gestational diabetes. These health disparities gain an alarming momentum when you see that more African-American and Hispanic people are testing positive for COVID-19 and are being hospitalized at higher rates than whites.
Diabetes and COVID-19
Scientists and officials have revealed that most cases of the disease are mild. Most serious cases are in patients with underlying health conditions, such as hypertension, obesity, and diabetes.
This is a serious consideration in the US, because the CDC reports that 60 percent of U.S. adults have a chronic condition. More people in the ICU for COVID-19 had diabetes than any other condition.
Diabetes makes outcomes worse by weakening the immune system, especially if the infected person's diabetes is not well managed.  This means that their bodies have to work even harder to fight off the infection.
Stress can cause another problem with immune defense systems and blood sugar levels. It can cause both to grow out of control. This can make diabetes even worse. The American Diabetes Association has more information on How COVID-19 Impacts People with Diabetes.
This is an opportunity for community-focused health workers to step in and help. By helping patients understand how to interpret their blood sugar readings and helping them eat nutritiously, they can both help them manage diabetes and boost their overall immune system.
Diabetes and Oral Health
The relationship between oral health and diabetes is more pronounced than many people realize. Good dental hygiene is associated with a lower diabetes risk, according to a study. On the other hand, people with a dental disease, such as periodontal (gum) disease, are at a higher risk of developing it. One surprising statistic says "In individuals missing 15 or more teeth, this risk increases to 21%."
CHWs can help by educating clients and caregivers on good oral health habits, including frequent brushing, daily flossing, and avoiding sugary snacks. Many people are not seeing dental workers because of cancellations and coronavirus risks, which means they need to be extra vigilant with their oral hygiene to avoid the need of seeing a professional.
More information on oral health and its relationship with other chronic disease is in the course Oral Health Disparities.
Diabetes is bad for people in the U.S. more than ever before. Community health workers are more important than ever when it comes to avoiding and managing diabetes and prediabetes.
If you're not including training about diabetes in your CHW workforce, start now. If you're interested in building a diabetes education program for your team with these or other courses, contact us to learn how to add certified training to your program. Our team will be in touch ASAP to schedule a time to chat.

Image by Myriam Zilles from Pixabay