Being a community health worker or promotora (CHW/P) now isn't the same as it was in January. And the job might never be the same again. Public health departments, health plans, agencies, vocational high schools—all manner of health care systems in the United States are rethinking what it means to hire, train, and integrate CHW/Ps and other frontline health workers because of the coronavirus.
Since COVID-19 swept across the U.S., the many agencies and individuals are rethinking much of their CHW/P workforce: how new CHW/Ps are trained as they enter the job, what kinds of skills new and experienced workers need in a new health landscape, and even how they work as part of multidisciplinary healthcare teams.
[Ready for your next learning adventure? Start with CHWTraining's Learning Tracks]
While some of the job changes are born out of necessity, some are simply a better way of working and connecting to clients and patients.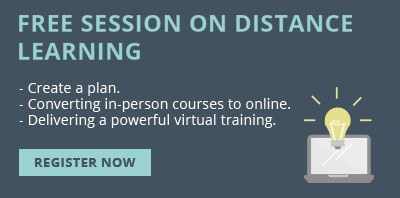 Here's a closer look at three key ways in which the CHW/P job has changed and will probably stay.
In-Person Training Will Move Online
Virtual training is necessary because it's not safe for many learners, trainers, and staff to safety travel to on-site locations. As time goes on, and as more health experts and communities warn that opening the country too soon could result in suffering and death, and critically for CHW/Ps, the ability to support underserved communities when they need it most.
The Washington State Department of Health usually offers in-person training across the state four times per year as part of its hybrid CHW training program. This year, however, just as the program was ready to offer its spring session, the state went on lock-down orders.
Washington is one of many organizations that say some or all training for CHW/Ps through the summer and fall is being provided online. Vocational high schools that train CHWs and other medical tech workers are also moving to an online format. We at CHWTraining have an entire team dedicated to creating a wide variety of courses and certifications to educate health workers no matter where they are so they can grow their careers.
CHW/Ps Will Use Telehealth
Telehealth, or telemedicine, is another domain that wasn't part of many CHW/P tasks until recently. This is good news, because telehealth is a proven strategy to engage and support clients, especially those in rural communities. Now, most people are remote, and the same strategy of communicating with clients for long-distance health care and education works.
Exactly how CHW/Ps will use telehealth to connect with their clients is still evolving.
"Telehealth policy changes occurring within the COVID-19 environment have been rapidly developing on almost a daily basis," according to Center for Connected Health Policy.
Some of the common ways telehealth is used, according to the Center, include:
Video conferencing in a live, two-way interaction between a patient and a provider
Store-and-forward technologies to transmit medical information, such as digital images, documents, and pre-recorded videos
Remote Patient Monitoring (RPM) to send personal health and medical data collection from a patient in one location to a provider in a different location
Mobile Health (mHealth) to support clinical and public health services and education on mobile devices such as phones and tablets
eConsult for providers to consult with specialists via live video conferencing or store-and-forward.
Skill Areas Will Evolve
Health education, outreach, referrals, and understanding health disparities are all important skills that CHW/Ps provide on a daily basis. Those are more important than ever in a pandemic. Prevention is essential to protecting the lives of people in low-income communities without adequate access to healthcare.
CHW/Ps, for example, can organize hand hygiene stations for homeless and migrant areas. They can use telehealth (see above) to check in with high-risk community members. They can keep people out of overused emergency rooms by teaching skills like understanding how to read and follow an asthma care plan.
Many CHW/P jobs include tasks no one ever imagined a few months ago – sometimes in ways they wouldn't have thought of. The term "contact tracing" is something associated with CHWs during the Ebola crisis in Africa or cholera in Haiti, but wasn't really practiced in the United States. CHW/Ps are working within their communities to map cases before it spreads.
Providing social support and behavioral health support are going to be even more important than before.
CHW/Ps Will Be More Integrated
Many healthcare systems that have considered using CHW/Ps, or use them but aren't sure how they connect with the larger system, will need to change. These organizations' workforces will need to understand the role of a CHW/P and how it differs from a social worker, case manager, or nurse. When disasters—health and otherwise—effect a community, it's helpful to have a community-based workforce to minimize its impact.
"Right now there's a focus on coordinating services for high-risk individuals to meet their health and social needs and help them remain at home safely to reduce their risk of contracting COVID-19," Melanie Bella, chief of new business and policy at Cityblock Health and current chair of the Medicaid and CHIP Payment and Access Commission (MACPAC) said in an interview with Center for Health Care Strategies.
"States may want to consider re-focusing efforts on making system changes that increase coordination and alignment," she advised.
Now more than ever before healthcare systems need to invest in CHW/Ps. They're essential during pandemics and not.