Recently, the US Bureau of Labor Statistics reported that employment of community health workers (CHWs) and other health educators is booming. It will grow 11% by 2028, a much higher rate than other occupations. Those numbers have almost certainly increased after the coronavirus, because many health systems need the unique skills of a CHW.
Learn what it takes to be a CHW: click here >
It's a secure job choice if you're considering a career as a CHW. If you're a program manager or director looking for ways to increase the impact and response of your healthcare team, you should consider adding CHWs.
First, you should understand what exactly a CHW is. CHWs and other health promoters have a distinctive place in the community and unique relationships with patients and clients. Individuals and agencies should have an idea about how to work as or with a CHW. That's why typical CHW core competencies training includes roles and boundaries of the job.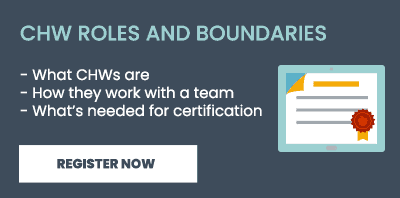 To help you understand this job better, we're offering a free training called What Is a CHW? on September 22 at 9 a.m. Eastern.
This is the first step in our core competencies training program, and one that's shared all across the US. The 1-hour online presentation shows how CHWs work within agencies and how to get started on your career.
In this free webinar, we cover topics to help you understand more about the job, such as:
How CHWs are members of a community
The responsibilities of CHWs
The most common places where CHWs work
The key skills CHWs should develop to succeed on the job
We have limited space for this webinar, so register today.

https://chwtraining.org/wp-content/uploads/2020/05/campaign_core_competencies_image_2020-05-12.png
428
640
Monique Cuvelier
/wp-content/uploads/2019/03/logo-updated.jpg
Monique Cuvelier
2020-09-11 06:50:26
2020-12-16 16:12:54
Wondering What a CHW Does? Start Here